Soundproofing a Loft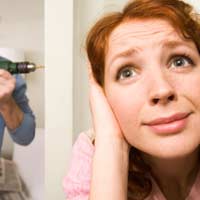 Why Soundproofing is Important
It goes without saying that if you want privacy in your loft conversion you should consider loft soundproofing. If you plan to convert it into a music room or entertainment room loft soundproofing is a must. It doesn't take much extra work to soundproof your loft and the results will be worthwhile. You can easily buy the materials you will need for soundproofing your loft from a builders merchant or a DIY shop, you may also be able to pick their brains about what type of insulation best matches your lofts needs.
How To Soundproof
In order to soundproof your loft you will need to build stud walls on top of your existing walls. You will then need to install the soundproof material, such as acoustic mineral wool in between the existing wall and your new stud wall, you should leave about an inch between your existing wall and your stud wall. You will need to use horizontal timber batons at the top and bottom, it is important that you fix the timber batons to the floor and the ceiling and not the walls as this will decrease your loft soundproofing. You will need to build the frame flat on the floor first and then lift it up to screw it in place.
You will need to hang the plasterboard off the resilient bars, which will detach the existing wall from new one, you will need to make sure that the screws are only screwed into the resilient bars and not the timber framework. Inside the framework you will have to put about four inches of soundproofing into the walls and then put your new layer of loft boards/plasterboard over the top and then seal the wall and the loft soundproofing in, you will need to seal up the joints using silicon rubber or something similar.
How Does it Work?
By building up another stud wall you will not only be creating another barrier for the sound to travel through but you will be locking the sound in. The gap between the old wall and your new loft boards is designed to trap the sound and reduce high frequencies.
Although you need to fix your stud wall to something the soundproofing will work better if the wall can move about a little bit.
The resilient bars will detach the stud wall from the timber frame to reduce the sound but still allow the wall to move.
Fitting Sockets
You may find you reach a stumbling block when it comes to fitting sockets into your new soundproofed wall. You should make sure that when you fit the sockets into the wall you do not align them with any sockets on the opposite wall behind your new one. Make sure you separate them so you do not have them directly behind each other, this way you will not lose any of the soundproofing through the wall.
Soundproofing your own loft conversion is doable but you may want to call in help from your friends or a loft builder if you have any doubts. Although the soundproofing process is relatively straightforward it can be time consuming and unless you have a lot of spare time on your hands then it may be best to call in the professionals.
LOFTS AND BASEMENTS IS FOR SALE.
This website is for sale [more info].
You might also like...