Is Your Loft Conversion Worth It?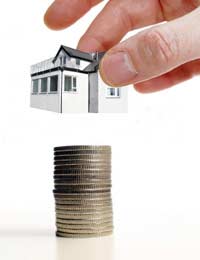 Why Converting Could Cost You
Loft conversions are a great way to increase your property's value but in some cases a loft conversion is not always the solution for everyone.
Your properties value can sometimes be only as good as the houses that are around it, so while you may have a beautiful £500,000 property you won't be able to sell it if you live in the middle of an area where house prices are a lot cheaper.
If you can't afford to move or simply want to stay where you are, but want to increase you property value with a loft conversion, you need to ask yourself if it will put your house above the value of your street.
If your loft conversion makes your house the most expensive in the block, then you may want to consider saving your money and moving to a property that would benefit more from a conversion.
To Convert or Not to Convert?
If you are sentimental about your property and really don't want to move you may have to be realistic about what a loft conversion will do to your property value. A loft conversion can add thousands of pounds onto the value of your property, but only if there is demand. You may find that your house was worth £150,000 before the conversion and is now worth £170,000, but if all the other houses in your street are selling for £120,000, then there is not going to be much demand for your house when you come to sell it, as people will look elsewhere. In this situation you would have two choices, you would either be stuck in the property or you would have to knock it down to the price it was before the loft conversion.
Calling in the Surveyors
If you have your heart set on converting your loft then you may have to sacrifice any increase in house price that it may give you. If you are worried about this before you call the builders you should call in a surveyor and ask them how much a loft conversion would add onto the price of your property, they will also be able to give you some advice about your loft use and whether you are doing the right thing.
You may want to look at other houses in your area that are up for sale, if you notice that they are all selling at a low price or having to drop down their asking price, then alarm bells should start to ring.
Value for Money
It is important that you think about what you are getting in return for your money, if you are going to pay £15,000 just to create some extra storage space and not an actual loft room, then you may want to consider creating storage space another way and something that is cheaper.
A loft room is a great idea, but if you don't practically need the extra space you may want to reconsider a loft conversion.
A loft conversion can be a great way to increase the value of your home, but don't rush into it and think practically about whether you will be able to sell your property on once you have made the conversion. Think about your loft use and what return this will give you, you don't want your loft conversion to be repriced out of your street.
You might also like...