Insulating Your Loft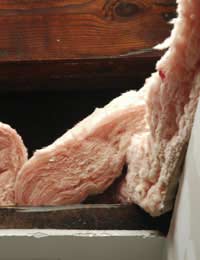 How loft insulation works
When it comes to converting your loft, insulation is a must, without it your loft will be a cold and not very welcoming place. Unlike installing a window in your loft though you can in most cases fit loft insulation yourself. Insulation is designed to keep the heat locked into the loft and it does this by preventing any heated air moving through the insulation.For the insulation to work, the fibres in the material must trap the air within, so it is important not to over stretch or compress the insulation too much or it may prove to be ineffective.
What insulation to buy
Before you buy your loft insulation you should think about what you will be using the loft conversion for, if you need the loft to be soundproof then you will need to buy insulation that is soundproofed as well. Mineral fibre or fibreglass in insulation is usually the most common and the best ones to use. You can normally buy it in rolls of 400mm, and different thicknesses depending on what you will be putting in your loft floor. The heavier the items you are placing on the loft floor, the thicker you will need to make the insulation in order to support the weight of the objects in the loft conversion.The thickness of the loft insulation will vary from 4 inches to eight inches thick; you should aim for an 8 inch thickness. If you already have some loft insulation down you may just want to put the thinner insulation on top of what is already there.
Another alternative which is a bit easier to install is vermiculite and mineral fibre, which is not matting, but is a way to insulate your loft without having to use matting.You can simply pour the material into the space that needs insulating, which means it can easily slot into corners and all of these tricky areas.
Tips for fitting the insulation
Before you start you should make sure you have enough light for fitting the loft insulation and that you can easily access the loft. It is no good standing on a ladder with a torchlight trying to fit the insulation, you will need to be steady on your feet and have enough lighting.
You should never fit electrical appliances under the insulation, if something goes wrong you will have to dig it up again. You will need to make sure there is enough ventilation in the loft before you start, if you have felt or boards under the tiles on the roof then you will need to create some extra ventilation. You should try and create vents at the edge of the roof.
You should make sure if there are any cracks or holes in the loft that they are filled, before you start working on the insulation, if any cracks are left it could add to condensation problems and make the insulation less effective.If you have a tank in the loft you will need to insulate around it, the same applies to any pipes in the loft, do not put the insulation underneath the tank, but around it.
If you are installing mineral wool insulation you may want to wear a mask or take a break in-between installing as it can often be irritant to the skin and throat.
Remember that loft insulation can be dangerous, so it is important you try and dispose of all the waste immediately and keep all the materials in the loft if you can and not open them in any other part of the house. Try and protect yourself as much as possible by wearing long sleeved clothing and trousers.
It is quite possible to fit the loft insulation yourself, you don't necessarily need to get the loft builders to do it, once you buy the insulation it will have guidelines for how best to fit it into the loft, Always remember to protect yourself and wear a mask and long clothes if possible. Insulating your loft can be fun and rewarding, as long as you follow the instructions on the insulation you buy correctly and keep safe, but if in doubt then always play safe and employ some loft builders to help you out.
LOFTS AND BASEMENTS IS FOR SALE.
This website is for sale [more info].
You might also like...