Making a Children's Playroom in the Basement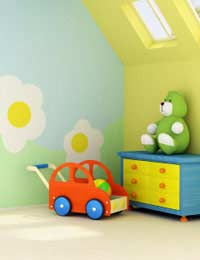 A basement can be a fantastic place for a children's playroom to be located. Games can be left out, toys can be strewn across the floor and wonderful craft creations can be kept out on tables or on the floor half made – all in the knowledge that the mess is out of sight and therefore out of mind.
Make Sure the Basement is Comfortable
Before you consider creating a playroom for your children in the basement you must ensure the environment is both comfortable and safe. Access to the basement must be good, with a solid staircase that little ones can climb up and down safely. The room must be both warm and dry. Some basements do not need to be tanked out before use but you must ensure the space is not damp and that there is adequate heating down there for when the weather is chilly. Basements also need to be well ventilated if they are going to be used on a regular basis and for your children to have a comfortable, pleasant atmosphere in which to play, it must also be well lit.
Playroom Walls
Many basements do suffer from reduced light so try to keep walls, floors and ceilings bright. Create a stimulating atmosphere for your children to play in by painting a brightly coloured mural on one wall perhaps. Make the most of the fact they can really get stuck into messy activities in the basement by painting one wall area with blackboard paint and then attaching a chalk shelf next to it. You could also create a large notice board area where your youngsters will be able to stick up any number of paintings or other pictures.
Flooring for Kids
You want to make it comfortable for kids in their basement playroom but you also need to be practical. There is no point laying an expensive floor down there if you are going to struggle to keep it clean. Why not section off the room? Opt for a reasonably priced carpet at one end. Check with the supplier that it will be able to be vacuumed and even washed easily. Do not go for a natural fibre. At the other end how about laying some kind of vinyl flooring? There are some nice cushion vinyl floorings out there that will not be too cold under foot and will be comfortable to get down on to. You could fit this at your "messy" end of the basement. Have a painting and modelling table down here, perhaps even a few paint easels. Why not also string a washing line across this corner of the basement, where youngsters will be able to peg up their wet pictures until they have dried.
Furnish Your Basement
Kit your basement out with kid-friendly accessories and keep the colours bright. Head out to DIY stores or surf the net for cheap storage and stacking boxes. Label them well and your children will be able to find exactly what they need. Bean bags and floor level furniture will work well in a corner you have set up for quiet activities. Perhaps also position a low level book shelf here so they can help themselves to books. If you want to have a TV corner, set this up well away from the messy activities. You could place a brightly coloured, soft shaggy rug in this area to make it comfortable to sprawl.
Consider Plumbing Your Playroom
Finally, depending on your budget, you could consider adding a bathroom or sink to your basement playroom. A bathroom, complete with a toilet, would make it easier for small children who will not have to keep coming upstairs to find one. If not a full bathroom, then think about a sink at least. Here little ones will not only be able to wash their hands after messy play but you will also be able to clean trays and brushes.
You might also like...