Wine Storage in a Basement: Interview With a Wine Expert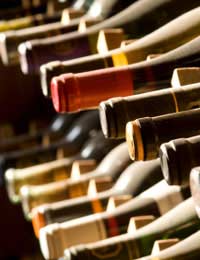 Chris Piper and John Earle, of Christopher Piper Wines, have been in business for 30 years. They began with just themselves and an old car – and now have 20 employees, their own warehouse and distribution service and a thriving sales team. Chris is a qualified oenologist (winemaker) and has made wine in Beaujolais for more than 30 years, most recently at Chateau du Pavé in Brouilly. Here they produce Brouilly itself, a Beaujolais-Village and a new addition to the range this year, a Gamay rosé. Here Chris answers some questions about storing wine – and whether basements make suitable wine cellars.
Q: What sorts of wines you deal with?
A: Geographically, we deal with products from across the world, ranging from the French classics all the way to wines from Uruguay and Morocco - not forgetting England, of course. Every wine has to earn its place on our list so we specialise in high quality, good value wines wherever possible, rather than wine that has been made to hit a price point. If a winery decides to give their wines less than 100% in terms of commitment and quality, then the wine doesn't even get past our tasting panel, let alone make it onto our wine list.
Q: Which wines are particularly popular at the moment?
A: The "muscley" Argentinean Malbecs are hot at the moment, as are the fragrant, exotic Torrontes whites from the same country. Lebanon has seen a major revival in interest whilst we've also seen a gradual shift away from Australian to South Africa, perhaps because of increased tourism and awareness of what RSA wines have to offer. The Rhône Valley reds have continued to excel and we mustn't forget to mention the major leap in quality of most English wines, despite the effects of two consecutive dire summers for our grape growers.
Q: How should wines be stored?
A: There is still a substantial amount of good wine being sold nowadays which needs to be stored properly. Firstly, any wine bottles using a cork closure should always be laid on their sides (to keep the corks wet and expanded) except for Champagne and spirits which need to be stored upright. UV radiation is a factor in the longevity of the wine so a dark spot is best - direct sunlight should be avoided at all costs. The other major factor in modern homes is central heating as wine dislikes heat. This can dry the corks, which makes the wine prone to oxidation, or in excessive cases even "bake" the wine (maderisation). In both instances, the wine will be ruined. Even "spikes" in temperature should be avoided. One common mistake is to put the wines in the understairs cupboard without checking if any central heating pipes run underneath this space en route to the hallway radiator, for example.
Q: Is a basement a suitable place to store wine?
A: Yes! With no UV, relatively constant temperatures and safe from the predation of visitors and children – basements are outstanding! Old basements were prone to excessive damp, which was OK for the wine but ruined the labels while the danger with modern cellars is that they are almost too well insulated and heated. If this is the case, then the comments above still need to be considered.
Q: What is the best way to store wine within a basement?
A: If the wine is still in the original cases, then simply stack them on top of each other. But I would recommend getting them off the floor and perhaps on to a pallet. This will allow the air to circulate underneath. If loose, then wall mounted wine racks are the answer but please check the structural condition of the wall first. A case of wine weighs approximately 16kg so there can be considerable "load bearing" issues. We managed to stop one customer putting a lot of very expensive Cognac into a wine rack that was not even screwed to a wall - and this was in a basement located near a tube station with substantial vibration for much of the day! Would the insurance company have covered any claim? Probably not!
Q: How long can wine be stored in a basement?
A: Best to check with the wine merchant who initially sold you the wine. All good wines have drinking '"windows" but, rather than rely on a rule of thumb, it pays to check as top wineries differ in how they maintain their vineyards or actually make the wines so, for example, you can have two top-rated Chateauneuf-du-Papes, literally from adjacent vineyards, but they may taste and age very differently.
Q: Do you have any other advice for anyone thinking of setting up a wine cellar in a basement area?
A: Research the wines carefully. Decide on a budget and stick to it. Buy what you actually enjoy drinking rather than following what other people say you should be drinking. Some people treat expensive wines purely as a commodity but we like to think that nearly all of life's problems can be endured with the assistance of a superb bottle of wine and a selection of fine cheeses!
You might also like...