Create a Home Cinema in Your Basement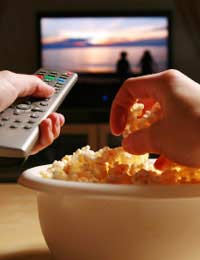 One of the nice things about having a basement or loft that you can convert is that you can often treat it as an "extra" space. It can become a room you use purely for rest, relaxation and fun. Basements, in particular, make great leisure spaces. They can be ideal for transforming into entertainment rooms – somewhere to listen to music, watch TV or even enjoy a movie.
Turning your basement into a home cinema can be great fun for all the family. Tucked away from the rest of the house it can be somewhere youngsters can settle down to watch the latest kids' blockbuster, adults can enjoy some grown-up time and teenagers can even set up their games consoles and have fun playing with them on a big screen.
Plan Your Home Cinema
Assuming your basement is dry enough and has already been tanked, damp-proofed, insulated and plastered, you can start working with the space you have. If walls and floors have not been completed, then think about cabling as you go. It is much easier to hide wires and cables if you embed them in your new walls or tuck them under floors. It is at this stage that you could also make a decision on sound-proofing. Depending on the proximity of your neighbours and your own bedrooms to your new home cinema, you may decide your wish to dampen the sound or even block it entirely.
Colours for the Basement
Next, consider your colour scheme. A home cinema will undoubtedly work best if you opt for dark shades on walls, as well as your floor and ceiling. Try a midnight blue or dark mossy green if you can't bear to go all the way with black. It's nice to have something soft under-foot in a home cinema. This adds to the cosy, relaxed feel. So how about opting for a dark carpet? Alternatively, you could go for a dark linoleum (or other flooring that can be easily cleaned) if you are concerned about food and drink spillages.
Get Rid of Light
One of the reasons basements are ideal for conversion into home cinemas is their lack of light. While you need to ensure adequate ventilation, you can manage without any natural light at all – in fact it helps create the right conditions! If you do have natural light streaming in through a window or well, you need to black it out. Look for specialist blinds or curtains, or make your own from blackout fabric.
Think About Lighting
You will, however, need to install lighting to be used before and after each movie. Consider fitting a dimmer switch to give you greater control. Some of those with home cinemas like to install fibre optics as well. You can create some wonderful effects with these in the darkened space, such as twinkling, star-like ceilings.
Buy Your Home Cinema Equipment
Screens and projects come in a variety of makes and sizes from special suppliers. Surf the Internet and ask in high street stores. Remember to have not only your wall measurements handy but also the likely distance between projector and screen. Experts can then offer you advice as to the right model for your requirements.
Furnish the Space
Finally, consider your furniture. You need to ensure it is comfortable enough for viewers to relax on while they are watching a movie but you also want to maximise your basement space. It is no good having one enormous sofa in the home cinema, if it can only seat three people. Think about creating rows of seating so you can get as many family members and friends in as is comfortable and safe at any one time.
Then choose your film, grab your popcorn and switch on the projector. Your basement home cinema should be ready to enjoy.
You might also like...