Installing a Swimming Pool in a Basement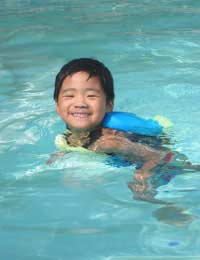 Why Install a Basement Swimming Pool?
If you have ever dreamed of having a home swimming pool but don't fancy the idea of going for an outdoor swim in the middle of winter, then a basement pool may be your answer.
If you are already thinking about installing a home swimming pool but have not considered your basement, then it is worth considering why your basement could provide a home for your new swimming pool. There are very few places in your house that you are suitable for pool installations, other than basements. Most basements provide the perfect setting, they have concrete floors and are at the bottom of the property so you do not have to worry about the weight a pool would put on the ceiling of the room below. You would normally have to build an extension to house your swimming pool, but there is no need to if you have a basement pool.
While outdoor swimming pools are good in the summer they are not ideal for the winter and if the unpredictable British weather is anything to go by then you may find you don't get much use out of your outdoor pool. Outdoor pools can also take a lot of upkeep and may prove to be unsafe if you have small children. A basement pool will be a lot easier to maintain and will give you control over who is using it when and where, a good idea if you have small children.
Constructing a Basement Swimming Pool
The biggest problem with having that much water in one place is damp. Damp and rot can be a nightmare for basement pools. You need to make sure you don't cut corners when it comes to damp proofing your basement pool, as this will be your biggest challenge. Many people have problems with damp in their basement after they have installed a swimming pool, don't be put off by horror stories you may hear, but do keep in mind that other people have had bad experiences and you don't want the same happening to you.
You will need to make sure that you get an accredited builder to fit your swimming pool and that they have had experience in converting basements for swimming pools in the past.
Depending on how deep your basement is you will either have to raise the floor of dig further into it. If there is not a lot of height in your basement then it may not be suitable for a swimming pool. Builders will only be able to dig so far down before they reach water level, so you may have to build upwards instead.
You may also need to put some external ladders or doorway at the side of your basement which will work as an access point into your swimming pool in order to comply with building regulations. This should not deter from your privacy and you will still be able to have complete control over who exits and enters your pool.
Basement pools are a great way to stay fit and healthy in the luxury of your own home. But a home swimming pool in your basement is not as straightforward as other conversions and can have their fair share of problems, so don't rush into choosing your builder, ask around, get a few quotes and make sure the builders you choose have experience in pool installations in basements.
You might also like...
Dear. My question is do swimming pool in the basement needs a ventilatory system for air change. Second how much height of roof from upper level of pool should be ideal and the ideal height ( depth) of indoor residential pool. Best regards