Putting a Wet Room in a Basement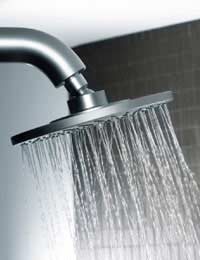 If you are looking to create a bathroom in your converted cellar then a wet room could work very well. A wet room, which has no shower tray but allows water to drain at floor level, provides a simple yet stylish shower room and is ideal where space is limited.
If you have a large space below ground and are thinking of making it into a bedroom then the addition of a wet room could give you a guest suite or almost self-contained area for a teenager or older relative. Perhaps you are creating another living space or relaxation area in your basement, in which case the addition of an extra bathroom will be great for overflow use from the rest of the house. But even if you are only putting a wet room in below ground then it could still work very well, allowing you to make the most of previously unused space to make life at home more comfortable.
Where to Start
Positioning the wet room is the first consideration. Decide with your builder or architect where it is best placed for water and heating pipework and for drainage. You may well find this is immediately below an existing bathroom or water and drainage area in the kitchen. Drainage for your wet room will be essential. Do ensure you take expert advice at the stage as it is vital you make sure the basement is not likely to flood in the future from rainwater getting into the system.
Keeping it Warm
You are likely to want to run the central heating into the room. The other option might be for under-floor heating but unless you plan to dig up and lay the pipework under the entire basement floor, you may well decide it is simpler and cheaper to simply install a wall radiator. However, there is no reason why either of these options should not work, but do ensure you discuss practicalities and price differences in installation before you start.
Lighting and Ventilation
Lighting and ventilation are other major considerations for your underground wet room. Unless you are lucky enough to have a window in your basement you are going to have to manage with artificial light. Once again, take advice from an expert. Visit a number of lighting stores or surf the internet. There are lots of lighting solutions out there, including those that could work well in a bathroom, that mimic natural light. You may well wish to link your ventilation system in with your lighting. Ventilation in your wet room will be vital as the room will undoubtedly become steamy and humid. You may wish to install a humidistat controlled fan or an extractor that is triggered either by the light switch or by someone entering the wet room.
Installing Your Wet Room
Once the entire basement area has been tanked out or waterproofed, and adequate drainage is in place, you will want to begin installing your wet room. Choose simple, stylish pieces that give a clean, contemporary look while providing all you need for your bathroom. For small spaces all that is really required for a wet room is a walk-in shower area, wash basin and toilet. Installing a toilet in a basement can be problematic. Depending on the position of the waste pipes in the rest of the house, space available for pipework and the levels to which flushed water will need to be pumped, you may find you need to fit a macerator toilet. This is where hidden machinery grinds up the waste and is able to pump it through thinner pipes up to normal sewerage levels.
The Wet Room Finish
Given that your room is going to become steamy, you will probably want to line it with aqua board. This will not only provide a layer of protection but can also be tiled on to or skimmed with plaster. Assuming your drainage and water pipes are in place correctly, the basin, toilet and walk-in shower area can then be installed to the manufacturer's instructions. Fit the glass to give maximum protection to the rest of the wet room. It is advisable to tile as much of a wet room as possible. This gives a sleek modern look but again offers extra protection against water damage.
You might also like...