Safety Guidelines for Lofts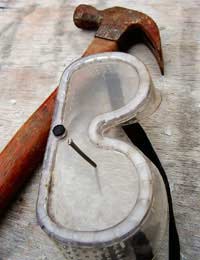 Staying Safe When Converting
Lofts can be dangerous places so it is important when building your loft conversion that you follow loft safety and stay safe, you not only need to make your loft conversion safe but you need to make sure that you keep yourself safe by following the appropriate loft regulations and building regs.
Your first job when building any loft conversion is to make the loft safe, you will have to carry out a lot of work in your loft, so you don't want to have floorboards that will not be able to hold your weight. The last thing you want is have an accident or fall through your loft. Your first step should be to secure the flooring and increase its depth; this could be by temporarily putting extra flooring down until you have completed the work.
Your staircase and ladders can also be potentially hazardous, if you don't have suitable ladders or stairs to get up to the loft then there is the potential to have an accident. Don't try to take heavy objects into lofts especially if the stairs are not completed. Until the loft stairs are properly installed you will need to either get the builders to put up a temporary staircase or put one up yourself. Ideally no work should be carried out on lofts until the staircase is stable.
Insulating the Loft and Loft Safety
When lofts are converted they will need to be installed with loft insulation because of building regs, this could be dangerous if you do not shield your face from any irritant material. You should wear a face protector mask and make sure that you take regular breaks and that the room is well ventilated, you should always wear gloves and protect your clothes by wearing a boiler suit. Once you have finished laying the insulation dispose or wash your clothes straight away, do not leave them hanging around the house, or the irritant fabric could get on other furniture in your house.
Building the Loft Conversion
If you are a DIY enthusiast and will be doing a lot of the cutting and sanding of the loft yourself it is important that you protect your face by wearing goggles and follow loft regulations. If you have to cut large pieces of plasterboard you may find that some of the debris will come up and hit you in the face if you do not protect yourself properly. You should make sure that you follow the loft safety instructions properly on any electrical equipment designed for lofts and if in doubt call in the professionals and let your loft builders do the work. You will need to think about what the space is going to be used for and the loft usage.
Plumbing and Electrical
There will be very few people that will know how to carry out their own plumbing and electrical on a loft conversion, think about how you will be planning your loft usage, especially if you are planning anything tricky such as an en-suite bathroom. You will need to call in the professionals to do this unless you are qualified. As tempting as it might seem don't try and complete the work yourself as it could lead to disaster and not comply with loft regulations.
You should always put safety and building regs first and make sure that safety comes before everything else when carrying out your loft conversion. If you are not sure about anything then speak to the professionals, don't take any risks when it comes to your safety.
You might also like...
Hi. We ( husband and son age 13 years old) live in a mid terrace house and I would like to find out if we can have loft conversion. Most of the houses where I live doesn't have loft conversion.
Mafi
- 23-Aug-16 @ 2:37 PM