Visits from the Building Inspector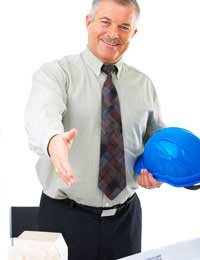 No matter what you may have dreamed up for your loft, you will need to make sure that your plans comply with building regulations and keep the building inspector happy.
What to Expect from a Visit
The role of the building inspector is to be involved with your loft conversion from the very start and the various phases of the building project. Once your loft convertors have been in to survey the house and approve the loft conversion can take place they will then need to submit plans to the local council for approval, and to see if they need to get planning permission. This could take up to four to eight weeks depending on how quickly your council gets back to you and how tricky the structural work on you loft conversion is.
Your loft builder should tell the council when they intend to start work on your loft conversion and give them a rough estimate of when they will be finished. It should also be the job of your builder to get from the council any permits or anything they will need in order to complete the work, for example if they need a permit to put the skip outside the property. You should make sure that you see the approval the builder have been given, from the council, if they tell you they have it, it doesn't harm to make sure they are telling the truth, as it could be that you are liable should anything go wrong.
What the Inspector will be Looking Out For
It is worth remembering that the building inspector is not your enemy they don't want your loft conversion to fail, even though it may seem like they are working against you at times.
Part of the role of the building inspector is to check the stability of the proposed loft conversion during the various phases of building project. You will need to prove that you have stabilised the loft in order to hold any structural work or furniture and fittings that you are putting in the loft.
You will also need to prove that your design and completed work is fire safe and include a self-closing fire access point and that your floors and walls are also fire resistant and that you have an escape window.
Ventilation is another important issue when it comes to planning permission for your loft conversion, you or your loft builder will need to show that there is adequate ventilation in the loft space and that this is built into the structural work.
It goes without saying that you will need to insulate the loft, this includes the floors and the walls, if you don't do this then the building inspector will be onto you.
Your loft builder should take care of everything when it comes to what regulations you will need to follow, they should also liaise with the building inspector about any potential problems that might occur. It is important that you keep on top of when the inspector will be visiting and what their verdict is, you don't want to hear at the last hurdle that something is wrong with the building work, and you want to make sure that your builders are doing everything by the book.
You might also like...