Using Recyclable Materials for Home Renovation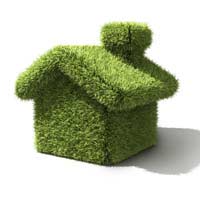 Why Use Green Materials
Using recyclable materials for your loft conversion does not mean that you have to make your floor out of recyclable twigs or you walls out of used coke cans. Recyclable materials can be ones found in your day-to-day routine. People often conjure up negative images when it comes to using recyclable materials, you don't need to trek down to your local rubbish dump and look through everyone's rubbish, there are small steps you can take to help ensure that the materials you are using are as kind to the environment as possible. You will also normally find that what is kind to the environment is also kind to your purse strings.
Being Kind to the Environment
You don't have to necessarily use recyclable material to be kind to the environment, there are a number of features you can add to your loft conversion to make it greener, for example, if you are using paint to decorate your loft conversion you should try choosing paint that is water based or paints that have a low level of volatile organic compounds, don't be fooled by the word organic. These kind of paints will also normally be a lot less smelly and keep air pollution to a minimum.
Tips for Creating a Recyclable Home
Make it known to your loft builder than you would be happy to use recyclable material, a lot of builders will be happy to use recyclable material left over from previous jobs but may feel more comfortable if they get the go-ahead from yourself.
When choosing your materials use ones that can be easily disposed of such as wood and bricks. If you are using things such as plasterboard then try and cut it to the design you need, this way it will create as little waste as possible.
Speak to your builders about possible alternatives for materials that are not recyclable and ask them if there is any way of using second hand or cut offs for your loft space from any projects they have previously done.
Make sure that when you finish your loft conversion you take all of your left-over scarps down to a recycling centre and not just throw them on a tip.
The key to being environmentally friendly is creating as little waste as possible, so try not to overbuy for your loft space.
Think about where you are buying your materials from, try not to get them flown in from some far exotic place. Buying locally can cut down on costs and help reduce carbon emissions.
What You Can Recycle
Everything from your windows to your flooring will be able to be recycled or used again.
Loft insulation can also be recycled or your can build on top of your previous insulation and re-use it.Natural materials are the most common type of materials that you can be used for recycling, for example a brick can be used many times over.
Also think about what your materials are delivered in, even if your appliances themselves are not recyclable you will often find that their wrappings are.
Recycling is rewarding for yourself and the environment but don't beat yourself up about every single detail of your loft conversion being recyclable. You won't be able to reuse everything that you need to build your conversion but the more you can recycle, the better it will be for you and your loft.
You might also like...