Inserting Solar Panels on your Loft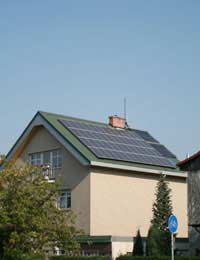 Why Install Solar Panels
Solar panels may seem like something out of a futuristic sci-fi movie, but in reality more people are turning to solar panels as a discreet way to make their home more energy efficient and as part of their loft conversion.
It is estimated that the power generated from solar panels can cut your bills by up to 10% and even more in the future if fuel prices continue to creep up further. Solar panels are easily installed and are not very noticeable from the front of a property and, your loft builders will be able to insert the panels while they install your new window.
Do Solar Panels Work?
Solar panels work by absorbing the light from the sun and outside your loft room and transforming it into renewable energy. The energy gained can be used to heat water and generate electricity throughout your home. Despite the hype, solar panels are yet to really take off in the UK, there has been much debate about how much they cost and whether they are actually worth the installation cost. If you are embarking on a loft conversion then it is worth looking into how much solar panels on your roof, just outside your loft room could cost you.
Are Solar Panels Worth It?
When it comes to the costs involved in installing solar panels, compared with how much you can save, there is much debate about whether you should install the panels.
Some experts predict that you can recoup any fitting costs within 13 years, while others predict it can take up to 100, which is not good news if you are looking to cut down on your bills straight away. The average lifespan of solar panels is usually about 30 years, so you can see why they could prove to be inefficient if they take longer than this to pay back.
Some experts have advised against getting solar panels for this very reason and say if you want to save money on your bills you should stick to loft insulation and cavity wall insulation.
You should also take into account other costs that may be associated with solar panels, you may have to repair them along the way or replace them if they become damaged. Similarly though, your solar panels could also make you money. They may not save you hundreds every year in heating bills but when you come to sell your house you may find that it has increased in value. Energy efficient features are always a good selling point when it comes to putting your house on the market and could increase its value by a few thousand pounds.
Getting a Grant for Your Solar Panels
Solar panels will fall under household renewable energy, so you may be able to get a grant from your local authority to install the solar panels, they may give you part of the costs depending on your circumstances. However these grants are slowly starting to decrease, so you will have to bump up some of the cost yourself. If you do accept one of the grants, the council will normally supply you with their own specialist builder to install the panels.
Solar panels are a great energy efficient feature to any home, but they are not an overnight solution to growing energy bills. You should look at solar panels as an investment and something that could take a long time to pay back.
You might also like...