Having a Toilet in Your Loft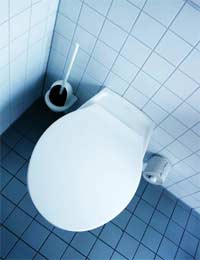 Considerations for Loft Toilets
Toilets are a great accessory for your loft conversion, they will make a nice addition to any bedroom and save you having to walk downstairs to spend a penny. However toilet installation is a lot harder than converting your loft into a bedroom, so you will need to filter in all the factors and make sure the fitting of your loft toilet runs as smoothly as possible. If you are going to have a loft toilet then you should make sure your designer or engineer knows about it as soon as possible.
The position of your toilet will often depend on where your toilet is downstairs. Your builder will need to make sure that any toilets downstairs are coordinated with the one in your loft. You will need a get adequate water supply up to your loft and make sure that you toilet cistern is able to fill up with water in order for your toilet to flush. If your toilet cistern, the tank at the top of your toilet is not able to get adequate water supply then your toilet will not work.
Building Regulations for Loft Toilets
You will need to get approval under building regulations for loft toilets. Building regulations are normally required when you are replacing or adding to an existing room. For a loft toilet you may need to add a new drainage system and pipes, which will fall under building guidelines.
Your engineer should be able to advise you best on where to situate your toilet in your loft space. The best place to put it and the place that will fit in best with planning guidelines will be on top of your original toilet. It will also be a good idea to put the toilet near to a window, for all those nasty smells. If you have no window in your loft you will need to create a vent for the bathroom, this will not only be for your toilet but for the shower or bath.
If you are lucky you will be able to connect your current drainage system from any downstairs toilets up to the loft, for the unlucky few though, a septic tank may need to be considered. This is really a last resort, as it's not ideal to have a large septic tank in your house. If you do need to fit one though you will have to consult building regulations and make sure that your drainage system is adequate.
Whether it is down or upstairs, a toilet will need to be fitted near to a toilet wastepipe, under building regulations you will be allowed a space of two meters.
You will also need to make sure that you have adequate flooring for your toilet installation, just like a shower, toilets are also prone to leaks, so you will need to make sure that your flooring will be able to cope with any demands placed on it, a concrete floor would be best for this.
Different Types of Toilets
You will need to get a toilet which has an internal siphon overflow as they will allow you to have a toilet without the need for an overflow pipe on the outside of your loft.
If you're brave you may want to consider an electric toilet, you may not have come across an electric toilet before, but they are slowly becoming the latest craze for loft conversions. They are a lot easier to install, they will also take water from a cold water supply and heat it as it is used, which means you can control the temperature of your toilet water. Electric toilets are particularly popular in maternity wards and among the elderly as they are quite accessible and can be moved from one location to another and hooked up to the main pipes.
Putting a toilet into your loft conversion can be a tricky business, so make sure you consult your structural engineer to check that where you want your loft is suitable and that you have the right floor and surfaces around it, or you could end up throwing water down the pan.
You might also like...
I am seeking advise on installation of a toilet in my loft
hazvinavamwe
- 15-Oct-17 @ 1:27 PM