Creating a Balcony for Your Loft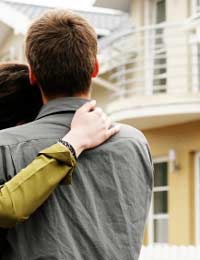 If you fancy adding something a little bit special to your loft, you could consider creating a balcony. Far from being a common sight, loft balconies are highly unusual and would not only improve the quality of life in your converted attic but could well also be an additional selling point should you ever wish to put your home on the market.
Is Your Property Suitable?
Before you go too far down the road in exploring the loft balcony options that are open to you, you need to ascertain the suitability of your roof and property. Firstly, contact your local authority to find out if planning permission is to be likely required before work is carried out. If your home is in a conservation area there may be a blanket ban for loft balconies, skylights and dormer windows. Or it may be that permission might be granted as long as the balcony or window is not visible from the street.
Check the Condition of your Roof
Then talk to a builder or surveyor about the condition of your roof. Ensure it is solid enough to have the large space cut out of it and sturdy enough to take the weight of the window and the new terrace or balcony. Familiarise yourself with any building regulations you might be required to follow. Discuss the options available to you and the various cost implications. You may find additional support or reinforcement work is required.
The Benefits of a Loft Balcony
There are, of course, numerous reasons for installing a loft balcony or terrace. Firstly, the larger window area will bring more light flooding into your room. This will make the space much more enjoyable to use on a day-to-day basis.
Secondly, you will be able to improve the ventilation of your loft room. Attics typically become hot and airless during the summer months. With more window or door area that can be opened up to allow the fresh air to flow in, your loft room will be far more pleasant to spend time in when the weather is warm.
Improving Your Loft Lifestyle
Finally, there's the improved lifestyle. By creating a loft balcony or terrace, you will be able to open your home up more into the outside space. If you have a loft terrace, you will be able to sit outside and soak up the sunshine with a good book, some pleasant company or a refreshing drink. If you opt for a tighter, Juliet style balcony, you will still be able to make the most of your views and to sit beside the railings or balustrade, taking in your surroundings.
Which Style to Opt For
Once you have taken advice from planners and builders you will have a clearer idea of the options open to you. One possibility is to go for a loft terrace. This is where your windows will open up on to a small area that you will be able to walk out on to. Here you will be able to create small seating or garden area. You may well have space for a couple of chairs and a table, or a few pot plants.
Alternatively, you may decide to go for the Juliet balcony option. This where your expansive window area will open up on to the railings and the room space by the opening will effectively become your balcony area. While this may not give you any additional space, but it might be the best option for you given the condition and position of your property, and your available funds.
You might also like...