Making your Loft a Bathroom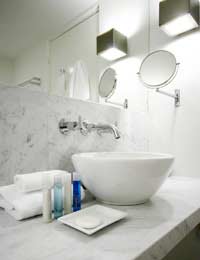 Using Your Loft for a Bathroom
If you want to convert your loft into a bedroom then creating an en-suite bathroom can be the perfect finishing touch. Before you got lost in the dream of what an en-suite bathroom may be like it is important you go through the practicalities of creating loft bathrooms. People will often find that creating a downstairs bathroom is hard enough, so when you add into the equation that all this will have to be done in your loft troubles start to arise.
The Practicalities of Loft Bathrooms
You must remember that your loft is not like any other part of your house, loft rooms have not been designed to hold the weight of a bathroom or facilitate for a toilet so it will take a big revamping in order to achieve this. You should also think carefully about what the advantages of having a bathroom in your loft will be, it is out of the way so you will be able to relax in peace, but if you are not planning on building and en-suite then you could find yourself too cut off from the rest of the house. It may not prove ideal to come out of your nice warm shower and have to walk downstairs to your bedroom, so think about what having a bathroom in the loft will mean practically.
You will also have to consider the electrical regs and plumbing regs that you will need to follow. Your builder should know all the different electrical regs to follow so they should be able to look after this for you.
Boarding in Loft Bathrooms
Converting your loft into a bedroom is one thing, transforming it into a bathroom is quite another. The first thing you will need to convert will be your floor, you will need to make sure it has enough flooring to hold the weight of a bath tub and even stand the risk of a potential flood. You will need to lay down floorboards that are water resilient as possible. This will mean that you will lose a couple of inches off your floor as you will need to build up the floor.
If you are going to fit a shower ordinary plasterboard may not be enough to stand the pressure of the shower or withhold against any leaks. You may want to consider constructing a proper brick wall on the side of the loft where the shower will be and then decorate over it. You may want to consider doing the same thing above the sink or anywhere where there is a risk of water leaking. Loft saunas are also popular but these will also have the same problems as showers and loft saunas will need to have a lot of support from the floorboards.
Plumbing in Loft Bathrooms
Plumbing is one of the trickiest aspects of a loft conversion and is where you should put your tools down and seek professional help. You may normally take it for granted how your toilet flushes, where the waste goes and how it is done. Toilets are normally built into a property's second floor and the drainage for the toilet built into the side of the house.
It may not be a nice thought but if you are going to have your toilet on the loft you will need to find somewhere for the waste to travel outside, you could join the existing pipe work up to the loft, but the chances are you will have to create a separate drainage system. Your builder will need to consult plumbing regs to make sure that they are able to fit the appliances and still follow plumbing regs.
You can't have loft bathrooms without water, and your water pressure will not be very good in your loft. You may even find that you will need to replace your boiler to achieve enough pressure. If you have a new boiler and your water is not heated from a central tank then you should be ok, but older boilers will need to be replaced. You will also need to create pipes that will be able to reach the loft, which may mean ripping bits of your house apart.
Converting your loft into a bathroom whether it is an en-suite bathroom or standalone is a great idea in theory, but you shouldn't embark on the conversion unless you are prepared for a bit of disruption. Fitting a bathroom into your loft rooms will not only mean disruption for your loft but the rest of your house as well.
You might also like...
Very negative pointing out problems and not giving solutions!
Le Fou
- 20-Jun-16 @ 2:17 PM