Putting Windows in Your Loft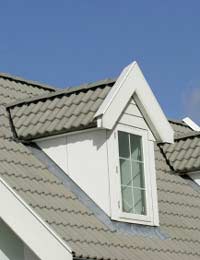 Windows can open up your loft conversion and even make the space in your loft magically appear bigger. There are a wide range of different loft windows and fittings to choose from when it comes to your loft conversion.
Dormer Windows
Dormer Windows are the most popular kind of window when it comes to loft windows, they are normally built onto a slope and seen as a small extension to your loft conversion.
Dormer windows will give you extra height in a loft and will create a little peep hole that will be risen from your loft. They are also popular because they add character to the outside of a house and make the loft extension look more like a standalone room. You will often notice on people's houses with loft extensions that they will opt for the dormer window as it can be seen from the outside.
Constructing a Dormer Window
Your fist step in constructing dormer windows will be to get the plans drawn up. It is unlikely that you will need planning permission to fit loft windows, but it is worth checking with your local council just to make sure. The dormer frame will then have to be created, steel reinforcement will normally be used to bridge rafters in order to create the frame.
The timber frame for the dormer windows and its roof will then be built and secured onto the roof rafters.The loft windows will be fitted last and will normally be a double-glazed window, and the window will need to be secured to the dormer frame and any gaps around the window filled with cement mortar mix.
Fitting a Skylight
Skylights will normally let in around 40% more light than a dormer loft windows will, so if you want to sit back, relax and look at the stars through your new loft conversion then you may want to consider installing a skylight velux window.
Skylights will normally open in a pivotal motion and will be flat against your roof wall, so you will not need to add or build onto the extension.
A skylight velux window is a lot easier to keep clean as they are not as hard to reach as dormer windows. You can also easily block out the light with shutters. A skylight will normally be less expensive than a dormer window as it will not take as much building work.
You may or may not like that your loft conversion will be recognisable from the outside of your house, but normally skylight windows will be discreet and you will not be able to see them from outside.
Think carefully about what your loft conversion will be used for before you decide on which windows to install. If you want to create a lot of light in your loft a skylight might be best, but if you want to make your loft more secluded and not as exposed a dormer may be best. It is possible to have a loft conversion without a window but if you want to complete your loft conversion it is best to install a loft window.
You might also like...
Hello I need a new window fitting in my loft. Could you please give me a price quote, including labor and material
shehab
- 28-Feb-21 @ 11:10 PM