My Attic Makes a Great Work Space: Interview With Music Producer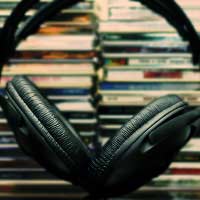 When music producer Robert Maines and his family moved to a new home they needed to find a home with space to create a studio. The house they found more than met their needs – it had a fantastic attic space that was ideal.
Q: Did you spend a long time looking for just the right property?
A: We couldn't believe it. This was actually the first house we looked at. In fact, we loved the house before we had even seen the top floor. It had three stories plus a cellar. When we saw the attic space we realised it would be just brilliant for the studio.
Q: What kind of house is it?
A: It is a double-fronted Georgian property that had been opened up on the ground floor, giving it a large, bright living area. This leads into a conservatory and on into the back garden. Upstairs, there are three bedrooms, including the master bedroom, which features a large en suite bathroom.
Q: How many storeys does it have in total?
A: Four. There is a cellar that we mostly use for storage, then two floors of accommodation. The attic studio takes up the entire top floor.
Q: Why was this space ideal as a music studio?
A: The shape of the room meant it had perfect acoustics. This was because it has a sloping ceiling, goes right back into the eves and has a very large chimney breast. It also has large skylight windows so there is plenty of light.
Q: Did you need to sound-proof the room?
A: No, I was very lucky, because of the shape of the space, the sound was very contained anyway so I didn't even need to sound-proof it.
Q: Was it important that the attic was large?
A: Yes. I have a lot of music equipment. Also, working from home, it was important that the space was adequate and pleasant. I knew I would be spending a lot of time up there.
Q: How have you arranged your studio?
A: The stairs come up into the middle of the space. To one side, there is an area where I have all my musical instruments – there is a drum kit and standing microphone, and there are also a number of different guitars. There is plenty of space here for me to play all of these.
Q: What about your mixing desk and electrical equipment?
A: To the other side of the staircase is another reasonably sized area where there was plenty of space to set this up. My desk is very long and is arranged with a number of different pieces of equipment, including the mixing desk and screens. This is where I sit and do most of my work.
Q: Was it difficult to get all this into the attic?
A: It is heavy and there is a lot of it but one of the beauties of this attic is that access is good. A proper staircase rises up to it making it easy to carry pieces of equipment up there. Once up in the space, there is very good head height.
Q: What have you used as flooring in your studio?
A: I opted for carpet as it dampens the sound.
Q: How is it working out from a practical point of view?
A: It's great working up here. This is the best space I have ever had to work in at home. It's ideal."
You might also like...