How to Maintain a Vaulted Loft Room Ceiling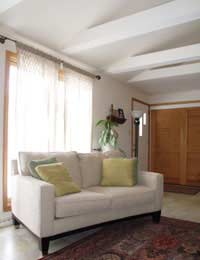 Vaulted ceilings above loft rooms not only look fantastic but also add to the sense of light and space within the area. Maintaining them, however, can be tricky, especially where the ceilings are particularly high or have sections that are difficult to reach into, perhaps behind beams or trusses.
Dust-free vaulted ceilings
It is essential to keep the ceiling above your loft room clean in order to minimise the dust build-up in the room, as well as to keep the air fresh and the space looking good. Standard methods for doing this, i.e. hand or stick dusters, will work well for some areas, particularly above the eves or where the ceiling slopes below head height. Where you can't reach from floor level, however, try using a cylinder vacuum cleaner with a long neck, a mop or a duster tied on to a broomstick. Failing this, scour the internet or try your local household store for a telescopic handle. These are often used by those in trades who have to reach up to heights, and they can often be adapted so a duster can be attached.
Cleaning high up
If the vaulted ceiling in your loft room is wood panelled, as many are, it is likely to have been varnished, lacquered or waxed to give it protection. Once every few years, therefore, it will probably require a deeper clean than simply dusting. In order to do this, you should wipe it down with a damp cloth than has been soaked in soapy water. Alternatively, you can use a cleaning product that is specifically designed for your wood finish. If you decide to go down this route, check the manufacturer's instructions before using. Dust your ceiling first and then once again improvise when it comes to wiping down. If you can't get a ladder into the loft, you may need to use a damp mop or tie your sponge to the end of your telescopic handle.
Painting and finishing
Every few years you may decide your vaulted ceiling needs refinishing or repainting. Professional painters and decorators will have the right equipment for getting up to the heights and into the nooks and crannies, but you may still decide to give it a go yourself. Start at the apex of the ceiling and work down to the lower levels, to ensure you do not drip over areas you have already painted or finished. This also means you are tackling the hardest areas first and doing those you can reach from floor level when you are at your most tired.
The right equipment
As for dusting and cleaning, if you can't get a ladder into the loft to help you reach the highest places when painting or finishing, you may need to use telescopic equipment to help you reach. Alternatively, many DIY stores will hire out special boards and trestles that will allow you to create a scaffolding structure that will give you a safe base to work from. Make sure you explain the job fully to ensure you are given a structure that will work well and fit inside your loft space.
Minimise maintenance
Finally, minimise the maintenance the vaulted ceiling in your loft room needs by taking certain precautions. Keep the room well ventilated. Do not allow moisture to build up. Ensure it is heated to a comfortable temperature in winter. Vacuum the floor and other easy-to-reach areas as often as possible to keep dust to a minimum. Do not smoke in the room and ensure the ceiling has been given a long-lasting finish when it is first completed or as you maintain it.
You might also like...