Using Your Loft Space to Create a Mezzanine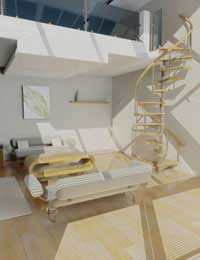 Light, airy and bringing a wonderful cutting edge modern appeal to properties of all ages, mezzanine floors can be superb additions within the loft areas of all sorts of homes. The beauty of the mezzanine is that it allows the maximum feeling of space while also often creating new square footage. In many cases you are creating floor space where it simply did not exist before.
Dramatic mezzanines
Mezzanine floors are typically found in stunning new build homes – perhaps in the form of a dramatic galleried landing in a spacious entrance hall or even as a work or study space above a double-height living area or drawing room. Conversions lend themselves particularly well to the installation of mezzanine levels. Schools, barns, chapels and churches that have typically had high vaulted ceilings may also have enormous original windows reaching up the full height of the building. The inclusion of a mezzanine floor in any design may well allow the creation of a two storey home without having to bisect the period feature windows or compromise light and space.
Using the space
Some of these unusual conversions may well have had loft areas, which remained largely unused before. Barns often have hay lofts that are used only for storage and some public buildings would have employed their loft areas only to hide wiring, water tanks and pipes. In converting these buildings into residential properties, these elements can be removed or rerouted, allowing the loft space to be opened up. If the inside of the vaulted roof is then properly insulated, the full glory of the building can then be appreciated. The suspension of a mezzanine floor at one or other side of the building - or even centrally - will then not only generate more liveable space, but could also be an eye-catching interior feature.
Stunning additions
Even period homes – including terraces – have been remodelled in the past to allow loft spaces to be opened up and then turned into mezzanine levels. Creative design can allow sleeping areas to be fitted at loft height above a bedroom or a study area to be installed at the top of a spiral staircase within the vaulted space beneath the roof beams. Some designs have even seen period homes renovated to create one open plan first floor living area. The loft space has then been opened up to the roof at the front and back above this, and a mezzanine floor installed to create a dramatic, central level at loft height. Accessed by a spiral staircase, this could again be a library or computer area, and could benefit from stunning views out through windows in the roof as well as down on to the rest of the house.
Take loft expert's advice
Before considering removing a loft floor to create a mezzanine level, it is vital to seek expert advice. Taking beams out of a building can cause serious damage to its fabric unless you know what you are doing. Check with your local authority as to the relevant permissions you will need. Planning permission is unlikely to be required but you will certainly need to conform to building regulations at the very least. You may also need to take advice from a structural engineer and you should certainly use a builder who is experienced in working with lofts.
Light and ventilation
Make sure you have enough head height to create a space that will actually be useable – remember, many lofts were designed for storage only and not for standing in. Finally, think about light and ventilation as well as space for your staircase or ladder. In order to maximise the potential of your mezzanine it needs to be easy and comfortable to use.
You might also like...
nico - Your Question:
Hi there,We are a family of four living in a typical Victorian semi with 2 rooms and a decent loft space. We've been desperate to get more space and had recently started to plan and get quotes for a loft conversion. However given one bedroom is used to gain access to the family bathroom and would require corridors, and the other room would need stairs added for the loft it would eat up space. A mezzanine feels like a better use of both space and funds. Please could you provide any information about using loft space for a mezzanine (or even a bed on stilts!) particularly with regards building regs.Many thanks
---
Our Response:
You would be better advised to ask an expert (such as an architect) to take a look at your property and let you know the various options. We can't really provide individual advice such as this.
LoftsAndBasements
- 27-Sep-16 @ 12:22 PM
Hi there, We are a family of four living in a typical Victorian semi with 2 rooms and a decent loft space. We've been desperate to get more space and had recently started to plan and get quotes for a loft conversion. However given one bedroom is used to gain access to the family bathroom and would require corridors, and the other room would need stairs added for the loft it would eat up space. A mezzanine feels like a better use of both space and funds. Please could you provide any information about using loft space for a mezzanine (or even a bed on stilts!) particularly with regards building regs. Many thanks
nico
- 26-Sep-16 @ 10:04 AM