Uses for Your Loft Conversion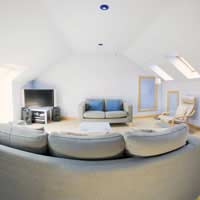 Your dusty loft room may not look like much at the moment but all it takes is a bit of imagination and you are able to turn it into anything you want, whether it be your own games room or a place to gaze at the stars.
Creating a Loft Bedroom
Whether it is for yourself or a relative such as your mum and dad, a loft bedroom is one of the most common uses for loft conversions. Many people have the image of lying in bed and looking up through their window at the stars, or having their own private loft bedroom away from the noise of the rest of the house. Creating a loft bedroom is one of the easiest conversions you can undertake, unless you want an ensuite bathroom as well. The only thing that you will need to cater for in a loft bedroom is electrical sockets and outlets, which will be relatively straightforward; you will also need to make sure there is adequate support for the bedroom through the floorboards.
Creating a Bathroom
Adding an ensuite bathroom into the equation may make things slightly more complicated. An ensuite bathroom will work in the same way as a loft bathroom would. The main concern in a loft bathroom is the toilet installation. Toilets generally need to be near a sewage stack, if the loft is too far away from this then you may need to install a macerator which can be used to move the waste to the main sewage stack. You may find that when you come to install your bath or shower in the loft you may need to upgrade your boiler if you currently have header tanks, as they will not be able to create strong water pressure.
Play Room
Using your loft room to create a play room will not only be popular with the children but will also give you some peace and quiet if you choose to get the loft soundproofed. You can easily soundproof your loft by fitting the walls with soundproof boarding. You are also able to get acoustic cavity loft installation which will be able to keep the sound in; this will combine acoustic fibreglass with acoustic membrane which will block the sound. You will also need to make sure that you fit the adequate flooring into loft as well as insulation to stop it getting cold. Converting your loft into a play room is a good idea for both young and old children, it can be a good storage place for children's toys and give older children a bit of independence.
You may also think about putting a nursery in the loft, this can be a good idea but you will need to make sure you make it childproof, you need to make sure the loft stairs are covered and there is no risk of the baby falling down them from the nursery. Nurserys in the loft are a better idea when the child is a bit older as it may not be practical if you are in a bedroom downstairs and the child is upstairs.
Hobby Room
Having the benefit of an extra room in your house means you can afford to create it into anything you wish. It may be that your hobby is collecting trains or painting; you could create your very own hobby room and have the comfort of knowing you are not disturbing anyone else in the house. You may want to think about where you position your windows, lofts can often get dark and lose light because they are so secluded, so if your hobby is drawing or photography then it is worth keeping in mind where you are positioning your lighting when designing the loft. Creating a home office in the loft is also a popular conversion choice, it can create a private place for a home office with relatively little adaption to the loft.
While you have the freedom to turn your loft conversion into whatever you please you need to be cautious not to be too ambitious, while your loft can be converted into another room it will also need a lot of support to create it into anything that will need to carry a lot of weight, so keep this in mind when dealing up what you will convert your loft into.
You might also like...