Useful Tips for Converting a Loft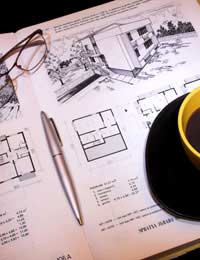 Before you Start your Loft Conversion
Do your homework, get a loft builder to come and look at your loft before you start planning your extension. It may be that your loft is not convertible or it may take more work than you originally intended.
Always over-budget, a loft conversion can sometimes be tricky and cots more than you originally intended, you should normally over-budget by around 15%.
Try to plan your loft conversion to take place over the summer months, you will need to have an access hole put in your roof, so it will be best if no rain can get into the hole, your best chance of this happening is if you plan your loft conversion to take place over the summer.
The Loft Conversion
You will need to decide before you start exactly what you are going to do with your loft conversion; you should never under estimate for space. Remember that you will need to allow for the insulation and the extra flooring and walls that will have to be installed.
Seek professional advice when it comes to building regulations and planning permission. It is vital that you keep the building inspector happy so make sure you speak to your local council about everything you are planning to do to your loft, so you know you are following guidelines correctly.
You don't have to, but it might be nice if you tell your neighbours about any work that you are going to carry out on your loft. You don't have to give the detailed plans but make them aware of what you are planning in order to prevent any disagreements further down the line.
Building Work
When trying to find a loft builder or an architect it is important to find a reputable firm to manage the process from beginning to end, you should contact the Federation of Master Builders and make sure the builder young choose is accredited by them. Also, don't just settle for one quote, look around and get a couple of quotes to make sure you are not paying too much.
You may want to take advantage of the extension work you are doing to make your house a bit more environmentally friendly, installing solar panels onto your loft will improve insulation and hopefully cut down on your heating bills.
If you are going to move house in the next few months you should think carefully about whether a loft conversion will be worth it.
Loft conversions can add a lot of money to your house but this will normally have to be regained over a few years or you will end up breaking even.
If you are converting your loft in order to increase the value of your property you should be realistic as to whether you will be able to sell your house. If converting your loft makes your house a lot more expensive than the other houses in your road then it may not sell.
You should also inform your mortgage lender about any plans that you have because it may affect your insurance policy.
Converting your loft can be great fun as long as you remember to stay safe and make sure you seek professional advice.
You might also like...
Would like a loftconversionbut not got funding could you help I live in terrace house with 2 bedrooms and I've got 3 kids
Jase
- 10-Sep-13 @ 9:17 PM