Making the Most of the Views from Your Attic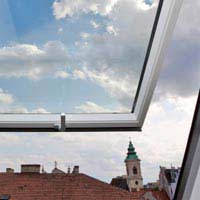 Before beginning any loft conversion, windows have to be a major consideration. This is not only because they will form part of your planning permission application or will be subject to Building Regulations but also because they will be key to your lifestyle plans for the attic room. As well as having an effect on light, your window positioning will be fundamental if you want to make the most of your views.
Skylight windows
The most common windows to install, especially as planning permission is not always required, are roof lights. These follow the slope of the roof and open outwards. While they will bring light streaming into an attic space, however, they are unlikely to allow much of a landscape view unless you stand up and look out with the window open. Nevertheless, telescope enthusiasts looking for a good view of the sky at night will find skylights ideal.
Dormer windows
A much better solution for those seeking to bring day time views into their loft space will be the dormer window. This is built out from the roof in order to allow for a vertical rather than a sloping pane of glass. A dormer window can also increase space and head room. It is highly likely that planning permission will be required and it is at this stage that you must decide where best to position the window to capture the views.
The size of the window you are able to install is likely to depend on the area in which you live. If precedents have been set and similar properties have incorporated large dormers with long panes then it is worth attempting to do the same. Equally, if you live in a rural location and your window does not overlook neighbouring properties then why not attempt the largest possible window to allow a fabulous panorama? If, however, you are an urban dweller, possibly in a conservation area, you may well be severely restricted in the length and height of your dormer.
Go for a gable end
A gable end window in your attic can be another superb way of bringing a view into a home, particularly if the position of the house has not permitted that outlook before. Once again, in your preparations for your loft conversion you will need to see if planning permission is required. If so, you may need to design your gable end window in a similar style to windows elsewhere in the house. If not, a more modern style or even a porthole could frame your view beautifully, creating a living picture within your space.
A loft balcony
Loft balconies, either in a Juliet style or with a full platform, are more unusual, but they do exist. When planning permission can be obtained these make stunning home features and can really allow exciting views. Not only can you bring the vista into the loft space via the long, glass French windows, but you can also step outside to enjoy it too – and at a height.
Adding an atrium
Finally, some modern, new build homes or even barn conversions can gain planning permission for an atrium-style window. This is where great panes of glass can be installed right up from ground level to roof height. Here either your loft space or your conversion can be incorporated at the top, potentially allowing you amazing light and stunning views from mezzanine floors that have been created within your attic space.
You might also like...