Different Types of Loft Conversion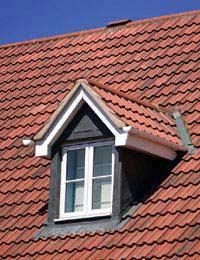 When it comes to converting your loft there are three main types of building extension and conversion options you can choose from.
Dormer Extension
If your current loft space is not big enough for what you want to do to it and you need more room for your proposed plans, then a dormer extension could be for you. A dormer extension creates more headroom for the staircase and any new room or separated rooms that you want to put into your loft.
Dormer conversions will normally have flat sides and extend upwards from the roof of the house. A dormer extension will normally not span the whole width of the current roof, but will only take up a part of it. For example you may choose to put the building extension on one side of your room upwards and install a window. This option is often used for bedrooms and makes a lot more light available in the room. You will still keep most of your outside roof in place, but create what looks like a box on the outside of your house which will increase the height of your loft conversion and make the room look a bit bigger, you will normally need to follow building regs for this.
In order for builders to fit a dormer conversion they will need building permission and need to install timber roof supports for the extension, as well as reinforced steel joists to give the extension extra support. The building extension will be out in the open constantly so it will need to be waterproofed, which means cladding will have to be used such as tile or lead which will protect the building extension from any bad weather extensions.
Roof Light Conversions
Roof light conversions are perfect for those that already have enough space in their loft and don't need any building extension, but still need windows. The only problem with this type of loft conversion is that it doesn't give you any extra room, so depending on the size of your loft you might find it hard to convert your loft space into much other than a single bedroom or a hobby room or home office. This type of loft conversion will not cause much disruption to the outside of your house and you will generally no need any planning permission for this type of extension. A roof light conversion is better for lofts that already have a bit of extra room in them, but not really for smaller lofts.
Mansard Conversions
The third type of conversion you can have is a mansard conversion, this type of conversion is especially popular in London and inner city areas.
It does not involve any extension to the outer house but it builds on what space there is already in the loft, it differs from a roof light extension in the way that it is normally built into lofts that are not triangular in shape but have more of a flat roof, so more of an even spread of the height in the loft. These types of lofts are better to convert and will often not cause many problems in terms of planning permission or building regs.
It is important to speak to a loft builder before you start to think about what type of conversion you want, you may not think you want to extend to the house at the moment but that may change a few years down the line. Whichever type of loft conversion or building extension you choose you should make sure it fits the requirements of what you want to turn your loft into.
You might also like...