Is Your Loft Convertible?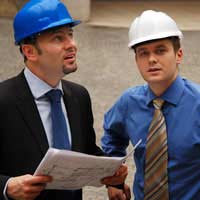 Can you Convert?
Before you get excited about the prospect of a loft conversion you need to find out whether you can actually convert your loft because not every loft is convertible.
There is an easy test you can do to see if you can have a loft conversion, as a rough guide to see if you can convert your loft you should stand up at its highest point, if you can do this then your loft should be Ok to convert.It you have a tape measure handy then you may want to measure from the floor to the highest point in the ceiling, if it reaches 2.3m then you should be ok to convert your loft. If you find that you are very close to the measurements it may be worth getting a builder in for a second opinion.
You should be able to know yourself whether you will be able to convert your loft without having any loft extensions. If you want to convert your loft into a living room or bedroom you should be able to tell from your own measurements whether the loft is adequate for the size of room you want.
As a general rule, house prices built before the 1960s are normally easier to convert because of the way that roofs are constructed, which makes your loft conversion easier because they will have a steep pitch and lots of room between the framework. A lot of more modern day houses are built without much room in the loft, especially new builds, which would be very hard to convert, so the older your house the better it will be. It is possible to carry out loft extensions if your loft is too small, generally loft extensions will be build upwards and not outwards, it can be worth it but it will mean a lot of extra work and it might be easier to extend elsewhere in the house.
Building Regulations for Converting
There are no actual building regulations relating to how big the height of the loft needs to be for a loft conversion, but anything less than 2.3m will normally not make it worthwhile. You may think that there looks enough room in your loft but remember you will have to build up the floorboards which will create less room. Lofts are not designed to support a lot of weight on the floorboards, so you will need to adapt them to cope with the extra weight, so you will need to allow extra space for this and make sure that you keep the building inspector happy by following building regulations for any support work that you do inside the loft.
If you want your converted loft to count as an extra room you will need to make sure that your loft stairs form part of your house and are not a temporary way of getting access to the loft. If you do not have room to build loft stairs into your house you should keep in mind that this will mean your extra space may not technically be classed as an extra room by valuers.
Different Types of Conversion
Depending on what you want your loft conversion to be may also determine whether your loft can be converted. If you want to use the loft for a kitchen or even a swimming pool then it will depend on the structure of your house as to whether you can carry out the renovations. The electrics and plumbing of lofts can often be tricky depending on the access to your loft and where your water supply runs through in relation to your loft if you water supply is not in easy reach it might be harder to carry out the renovations.
Nothing is impossible though, but it might mean an extra work, if you want to put a swimming pool or gym in your loft then the height of your loft will need to be higher because you will be building downwards into the loft so you may have to build the floorboards up.
Before you start planning your loft conversion you should be able to get a general idea of what is possible in your loft by doing some planning yourself. If you can't stand up in your loft then nobody else will be able to, so it will be a no go area in terms of converting. If you can happily move about in your loft then it will have the potential to be created into whatever you envisage.
You might also like...