Interview: Why My Loft Makes a Great Teenage Den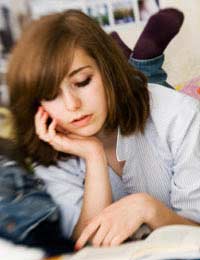 Sixteen year-old Tess Little has had her bedroom in the loft of her family home for the past seven years. Over the years, she has moved the furniture round and brought in new items, such as her television, music system and laptop. She discusses why her loft space makes such a great teenage den.
Q: Were you pleased to be given the only bedroom on the very top floor of the house?
A:
Yes, very pleased. Until that point I had shared a room with my brother. It was nice to be given my own space and to feel a little independent from the rest of the family.
Q: Did you have a say in the way it was decorated?
A:
No! My parents decided how to decorate it. It has a wood-panelled ceiling and is painted in a rusty, clay colour. It does go well with the style of the rest of our house but I am keen to redecorate it now. At the moment, we are trying to move so they have suggested we leave it as it is for a while. If we don't move though, they have said I can decorate the walls with murals.
Q: Do you like the style of your room in the loft?
A: Yes. It's a large room, which is great. I like the fact they left exposed brickwork at either end of the room and I like the way the ceiling slopes – this gives it a quirky, original look. I also like the way my bed is tucked away at one end of the room in an alcove. This means I have a defined sleeping area and then the rest of the room can be used for working in, listening to music, watching DVDs or spending time with my friends.
Q: What furniture do you have up in the loft?
A: Over the years various things have come and gone. At one stage I had a futon as well as the bed, which was great for my friends to sit on. But then I decided I wanted more space so I got rid of it. I now have a desk and office-style chair, so I can work, plus a chest of drawers. Along the sides of the loft room is eaves' storage. This is boarded out, which makes it very useful to keep things in.
Q: Do you have a dormer or skylight window?
A: It's a skylight. There's only one so it can be a bit dark down at the end where my bed is. But there's a great view across the surrounding roofs and treetops.
Q: What modern teenage accessories do you have in your loft room?
A: I keep my laptop up there so I can work on it, watch DVDs and email my friends. The wireless broadband signal is nice and strong even though the box is on the ground floor of the house. I also have a music system. I can listen to CDs fairly loudly without anyone complaining, although my parents do get annoyed when they are calling up to me and I can't hear them! I also have a TV but, to be honest, I don't watch it that much.
Q: What's the best thing about having a teenage den up in the loft?
A: I can escape from my parents and my little brother and sister! Having my own staircase really helps to create a sense of being away from the rest of my house. I love being able to entertain my friends up there without members of my family wandering in and out. But best of all I love being able to shut the door on everyone and everything that is happening on the ground and first floors!
You might also like...