Digging Out a Basement to Give Extra Head Height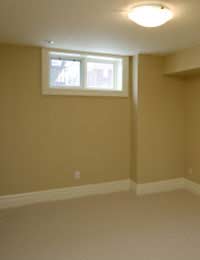 From extra living spaces, to relaxation rooms, kitchens, bathrooms and offices, basements can be transformed for all manner of uses. Before any work begins, however, there are all sorts of considerations and one of these is head height. Basements vary in length and width but they also differ greatly in their floor-to-ceiling measurements. Many of them were originally constructed to be storage areas and not be used for day-to-day living. Head height was often, therefore restricted.
Correct procedures
If your basement has a low head height, it is not the end of the world. Options of either raising the ceiling level or lowering the floor are open to you. Before you attempt to take either of these steps, however, you must contact your local authority to see if planning permission is required. Doing either could be considered to be expanding the space and you will, therefore need to follow the correct procedures.
If you discover you do not require planning consent, you will still need Building Regulation approval. Inspectors will want to come to look at the space and possibly offer their advice to ensure digging the floor out will not affect the foundations or walls of your home or those of your neighbours.
The right tools
Before you begin work to dig out the floor of your basement, there are a number of other considerations. Firstly, you need to assess the current floor and decide how you will remove it. In all likelihood it will be concrete and some kind of heavy equipment will be required. Should the concrete not be too thick, you may manage with a sledge hammer. Otherwise, you will need to start it off with a concrete saw and then move on to a jackhammer afterwards. When hiring equipment remember to ensure you have the right safety gear as well – a mask, hard boots, a helmet, gloves and goggles or a visor.
Removing basement rubble
The next stage of your preparations is to think about how you are going to remove all the debris and soil that will be coming out from your floor. Here, again, you may require planning permission if this is going to be a major operation. Is there an outside door into the basement that can be used? Can the rubble and soil be hoisted up through a window? Or will it need to be carried through the house? You will need heavy duty rubble sacks or other containers for this stage of the operation.
Head height
How much extra height you decide to give your basement will depend on the planning consent or Building Regulations advice. It is advisable, however, to give as much clearance overhead as possible – on the whole, a total basement height of at least eight foot is advisable. Remember to dig to a depth that will allow you to lay your new floor on top and still have good headroom.
Ground work
Then clear your basement area and begin work. Remember to progress tentatively in case pipes have been hidden beneath the floor. Adhere to the advice you have been given when digging close to walls and foundations. Digging out the floor will be a back-breaking job, as will hauling and disposing of the rubble but it will be well worth it. Before you lay your new concrete floor, consider whether pipework or pumps need to be sunk below floor level and then work around those plans.
You might also like...
Dear Loft and basements, I am looking to convert my cellar into a kitchen dining room in a 2 bedroom terrace. It has been dry lined and tanked last year , but the issue is the headroom and as the cellar dry lining and tanking dug down to the water table last year , I think the only option would be to raise the lounge floor to get the headroom. How do you raise the ceiling in a terrace cellar when your lounge is directly above, or is quite a big job. The other option is too dig down further but then there is the water table issue. Regards Lisa-Jasmine C Ramzan 01142015055 07904986629
Lisa-Jasmine
- 15-Nov-20 @ 5:15 PM