Questionnaire: Is My Basement Suitable for Conversion?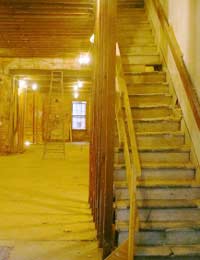 Perhaps you are desperate for the extra space - or perhaps you just fancy another useable room. We may have different reasons for wishing to convert a basement - but just how suitable is an underground space for carrying out the work?Try this questionnaire to find out how your basement measures up
1. How dry is your basement?
a. Not dry at all. It is very damp and we sometimes have drain flooding when it rains hard.
b. A little bit damp. It smells a bit musty sometimes but there is never any water down there.
c. It is extremely dry. We have never noticed any damp.
2. How much head height is there?
a. Very little. An adult could not stand up straight down there
b. It's not great but there is about seven or eight feet in height.
c. The head height is pretty good. Adults can stand up and there are still a good few inches above the tops of their heads.
3. Are there any windows?
a. No. There is no natural light at all.
b. There is a small amount of natural light coming through one or two small windows or wells.
c. There is lots of natural light. There are good-sized windows or wells.
4. What is the access like down to the basement?
a. Poor. We have to climb down a ladder or use a very small, unsafe staircase.
b. OK. The stairs need some work but they could be safe to use.
c. Good. We have a proper staircase which is currently safe to use. There is a door at the top that can be closed.
5. What is the overall floor space down there like?
a. Not good. You would only be able to create a very, very small basement area.
b. Fairly good. You should be able to create a small room easily.
c. Very good. There's plenty of room for at least one large room.
6. Are there are any central supporting walls in your basement?
a. Yes. There's more than one supporting wall. This divides the basement up, making small, unusable spaces.
b. There is at least one supporting wall. But there are still generous open spaces.
c. No. There are no supporting walls in the basement space.
Mostly As
You do have some big issues so it would be well worth asking a building expert to inspect your basement before you take your research any further. Some of the problems may well be able to be surmountable but you will want to weigh up potential costs and inconvenience before you embark upon such a major project.
Mostly Bs
You may well be able to carry out a basement conversion but there may well be some problems that need to be overcome. You do need to ensure there is enough head height down there, and that you can turn it into a reasonably-sized space. If access and light are problematic, there may well be solutions. You might even be able to do something about your supporting wall by working closely with building experts. It's possible there may be a little damp in your basement but through consultation with an expert, this could be resolved.
Mostly Cs
On the face of it, a basement conversion seems likely to be possible. If you have a generous amount of space, few central supporting walls to have to deal with, and good head height, then there's every reason to think you might be able to convert your basement into a useable space. From your answers, it also seems likely that you have no problem with damp and have good access and light. But you still need to consult an expert and ensure he or she inspects your basement and offers advice before work begins.
You might also like...