The Pro's and Cons of Basement Conversion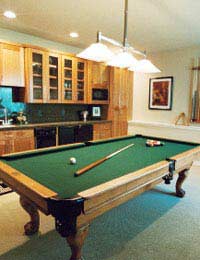 Benefits of a Basement Conversion
A basement conversion is a great way to increase the value of your property. The average basement conversion can add anything between £5,0000 to £30,000 to the value of your home and with people finding it increasingly difficult to move house then it could be cheaper to convert your basement rather than move home.
A basement conversion gives you more room in your house and lets you hold onto all of your land, if you don't have much of a garden or any room to build and extension then a basement conversion can give you the extra space without you having to sacrifice anything. Most basement conversions will not require you to add on or to extend your property.
Building downwards is also helping the environment, adding to your home instead of moving out and increasing the need for more houses to be built is a great way to reduce you carbon footprint.
Basement floors are designed to hold heavy weights so they are ideal for things such as swimming pools and kitchens, you will not need to do much work to the floor or the structure of the basement because it will already be supporting the weight of the house.
Building downwards is very popular among people who buy their house to rent out, you can create a whole new room using your basement which means another person's rent coming in. Basement conversions are also becoming increasingly popular for people who wish to move an old relative into their property but do not have the room upstairs. Basement conversions allow the person down there to have privacy and to some extent cut them off from the rest of the house, which can be a good or bad thing depending on how you look at it.
If you are converting an already existing basement then it will be a lot easier to convert than any other type of conversion. The builders should quite easily be able to get their equipment down into the basement with little disturbance to the rest of the house. If you don't already have an existing basement though this may not be the case.
Pitfalls of a Basement Conversion
A basement conversion can mean a lot of upheaval for your house, depending on what kind of basement already exists. If you don't have any basement or need to make your existing one bigger then this may mean the builders digging into your concrete floor, which could mean you will have to vacate your house for safety reasons while they do this.
A basement conversion is quite a secluded place, you can often feel cut off from the rest of the word down there and even if the basement has a window in it, you may find yourself staring at a brick wall.
Basement renovation can be expensive, you will need to waterproof a damp basement as it will be prone to basement flooding and this can be costly to do and may take some time, renovated a damp basement is not much fun but it is a must to protect against basement flooding, however it may work out in the long run that it is cheaper to move to get the extra space.
A basement renovation can add a lot of value to a person's home, but to many people they are still not a favourable feature. If you decide to have one of your main rooms in the basement such as a bathroom or kitchen, there is no guaranteeing that this will be what a homebuyer is looking for. Many people still view basements as dark and dingy places, so it may take a bit of persuading to get others out of that mind set.
A basement conversion is a great addition to any hose, but it is important that you weigh up the pros and cons of a basement conversion before you call the builders. Don't rush into deciding on a basement conversion, it is a big undertaking and one that could take months so it is important you take your time in order to make your finished conversion as good as possible.
You might also like...