Interview: How We Created a Basement Restaurant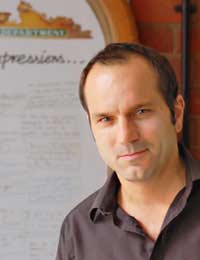 The Last Wine Bar and Restaurant, in Norwich, is owned by Ecky Limon and James Sawrey-Cookson. Although the venue was established when they bought it in April 1990, they have completely renovated its basement area.
Q: Can you tell us about the Last Wine Bar and everything you offer there?
A: The original concept of The Last Wine Bar was very much as a wine bar with a large selection of wines where you could get a good plate of food. Customer demand has led to a natural evolution into being more of a restaurant destination for lunch and dinner, although there is still a purely drinking element and people are still welcome to just pop in for a bowl of soup! We have bar and a la carte menus, which change regularly, and approximately 120 wines on an ever-changing list. There are three distinctive areas – the bar area on the raised mezzanine, the ground floor restaurant and the basement restaurant.
Q: Do you know anything about the history of the building - particularly how the basement might have been used?
A: It was once part of a shoe factory, dating back to the late 1800s, hence the name – "lasts" are the moulds from which shoes were made. The bar and downstairs areas retain some of the original features from their time as part of the shoe factory.
Q: Is the whole bar and restaurant located in a basement?
A: The main bar is at ground level. The basement area consists of a long, narrow room accessed through swinging double doors. There are four booths, which are ideal for intimate tables of two, and a seating area, with a sofa, coffee table and a couple of armchairs. The room then opens out at a right angle into a larger square room accessed through three archways, with a bar in the corner and another comfy seating area with sofas and coffee tables.
Q: Does the basement location work well for the venue?
A: The basement restaurant works well as an alternative option for dining. The booths are very popular with couples who require intimacy. The sofas work well as a relaxing area. The larger room is ideal for an exclusive dinner party should people require privacy. It also serves well for business lunches, meetings and presentations.
Q: When was the work to create the restaurant in the basement carried out?
A: In 1996, having acquired two adjoining units next door, we developed the whole of the basement area, moving the kitchen to a central area, and converting the old kitchen and staff room into dining areas. We knocked through the adjoining wall to next door, connecting the two areas. In 2004, we redecorated and added some minor structural changes to the basement dining area. Having initially created a quite moody "bohemian" feel, with reds and purples, we were finding this to be quite claustrophobic. So during the redevelopment, we opted for light, bright, cream colours with a mushroom shade on skirting boards etc, which made the mood less oppressive.
Q: Were there any particular problems or issues during the conversion?
A: Initially there were problems trying to knock through the adjoining walls, as many were supporting ones. Also there was some difficulty in achieving the adequate minimum heights of the ceilings. Sound-proofing was also an issue, as the downstairs restaurant was now situated below a residential flat.
Q: Was there plenty of natural light already or did the developers have to come up with clever solutions?
A: The first development in 1996 allowed natural light through high windows in the narrow room and through a large window with small squares of opaque glass in the larger room. The improvements in 2004 saw this large window replaced with clear glass. This really opened up the whole space, making it seem less like a basement and less claustrophobic. We also knocked another entrance into the larger part of the basement restaurant, creating three arched entrances, again opening up the space and making it feel larger than it was. This ended up being a very laborious, messy and costly job but it had a massive effect on the feel of the room.
Q: Would you open a restaurant in a basement again?
A: It is certainly more difficult these days to attract people to a basement restaurant or bar. Twenty or 30 years ago, the clubby, Bohemian, exclusive feel of a downstairs venue was considered maybe more louche, dangerous and exciting. Today people tend to prefer window tables at ground level, maybe for more of a "see and be seen" kind of experience. The buzzwords these days do seem to be "open" "airy" and "bright." But I do think that with some clever design this feeling can be achieved in a basement environment.
You might also like...