Why Basement Conversion is the Latest Craze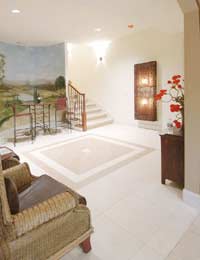 Why Everyone is Going Basement Crazy
Your basement may currently be full of all of your old junk and it may be hard to imagine it looking any different, but the craze for basement conversions is reaching new heights as the credit crunch takes hold and people are priced out of moving home.
The increase in house prices and the demand for more space means that people who want more room or expanding their families, are starting to use their basements as a place to store more than their old stamp collection. Many people have found they can make a lot of money from a basement conversion by turning it into a storage room or a bedroom or bathroom. Bathrooms are a great option for basement conversions because they are so secluded and will keep out any peeping toms.
Benefits of a Basement Conversion
A basement conversion is a lot easier to convert than a loft conversion you do not have all the problems of getting the builders and their equipment up several flights of stairs. You will also not need to do much in terms of renovation of the floor space in the basement, because basements are situated at the bottom of the house they will often have sturdy foundations and the wall structure will be similar to that of the main house, which will cut down on the need to build additional stud walls.
Drainage and electric systems are also easy to install in a basement renovation, if you are lucky the main drainage system may already run through your basement and you will have close access to outside drainage and electric supplies. Basement waterproofing can be tricky as your basement is the most prone to flooding, basement waterproofing will take up a lot of your cost for the basement renovation.
The great thing about a basement conversion is that you don't necessarily need to have a full basement in order to carry on out. You could choose to dig into your basement which means a lot of work, but worth it for an extra room.A basement conversion is the best way to create more living space without having to dig up your garden or lose any of your drive space. You will still maintain all of the land around your house, but increase your living space indoors, which means added value to your property.
Who Is Converting
The general rule is, if you have a basement you can convert it. A lot of modern day houses will not be built with basements, basements are more a feature of Victorian and older houses. Basements were originally used for storing food so were normally built quite spacious. Cities are the most popular breeding ground for basement conversion enthusiasts, especially those that rent out their property.
A basement can be converted into a whole new bedroom, which could be rented out to someone, the privacy a basement conversions is often appealing to renters, as a separate door can normally be built to allow them access into the basement without the need to go through the house. Buy-to-let landlords will often look for houses that have a basement in them, as this has the potential to be a room for one more lodger.
A basement conversion is an efficient way to create more space in your property, they can increase the value of your property and create a quite escape from the outside world. Your basement may be full of your old junk now, but in a few short months it could be transformed into your new underground sanctuary.
You might also like...