Questionnaire: How to Re-Design You Basement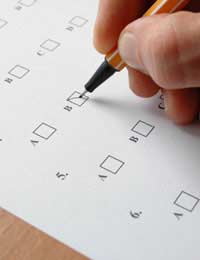 You have already converted your basement but you are keen to give it a bright, fresh look. What style should you go for to bring out the best from the space and to ensure you create a comfortable, useful space?
Try this questionnaire to see if it helps to steer you in the right direction.
1. Why do you want to re-design your basement?
A - To change its use and give the space a whole new identity.
B - To give it a stylish, more contemporary look.
C - To make it more comfortable and more user-friendly.
2. What sort of lighting would you like to bring in?
A - A whole new lighting system to change the appearance of different areas within the basement.
B - A whole new lighting system to brighten up the whole basement.
C - I want to work with some of the lighting I already have down there.
3. Do you have any thoughts about furniture?
A - I want to bring in some pieces I have elsewhere in the house but am happy to get some new items too.
B - I am prepared to look for new, contemporary pieces to create the look I want.
C - I need to use furniture I already have in the house, either in the basement or elsewhere.
4. Who will be using the new-look basement?
A - The whole family but the children are older.
B - Just adults. I am either single or live with my partner.
C - The whole family. We have young children.
5. How often do you think the new space will be used?
A - Fairly frequently – whenever someone needs to use it for its new purpose.
B - Not very often – it's an extra space, perhaps a study or second sitting room.
C - Often – the idea is that redesigning the basement gives us a more useable room.
Answers
Mostly A
– Take everything out of your basement and then have a good look at the space that's there. Consider the new use for the room and plan accordingly. If natural light is at a minimum, ensure you decorate with light colours. Talk to a lighting expert about how to make the most of the space and to define different areas. Consider intelligent lighting to create different moods and work with table lighting.
Pick a colour scheme and then bring pieces of furniture back in that will work with that and will suit the new use of the space. Consider a solid wood floor with some colourful new rugs. Resist the temptation to over-furnish the new room but do invest in one or two new pieces if they work well with your style. If your basement is small remember this while you are shopping i.e. buy two-seater sofas or chairs instead of large settees.
Mostly B - Take out furniture and accessories and think of how to utilise the space you see . Consider how you intend to use the space and plan accordingly. Lack of light is probably an issue, so consider investing in a solution that gives the illusion of natural light. Bring in a dimmer switch so you can make the room feel as bright as you choose. Complement this with off-white or other light colours on your walls and ceiling.
For a contemporary look, try picking up one or two very stylish items – in glass, leather or chrome, for example. Opt for a hard floor – this could be a solid wood, natural stone or even polished concrete style. For a softer look try a natural carpet. Whichever flooring you plump for, keep the colour light.
Mostly C - Take a look at what you want to change and remove excess pieces of furniture etc. Consider how you intend to use the space and who will be using it. Look round your house to see if you have items in other rooms that may work well in your new-look, comfortable basement space. Try to co-ordinate your colours.
If you can afford to splash out a little then buy a few accessories – throws, rugs and a cushion or two could transform the look of your space. Consider bringing table and standard lamps down from elsewhere in the house to light different corners of the room. If you can afford new flooring you will probably want a wall-to-wall solution. If not, then try to pick up a second-hand rug or two.
You might also like...