Our Space Saving Stairs Have Been Excellent: A Case Study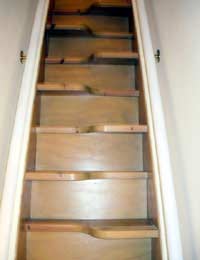 When Caroline Roberts and her family converted their loft it was hard to see where they would put the staircase. Then their builder came up with a space saving solution.Caroline said:
Converting the Loft
"Converting the loft had been something we'd discussed from time to time but it was only a year or so ago that we finally got round to doing it. We live in a small city terrace, with two reception rooms and the kitchen and bathroom downstairs, and two bedrooms and a box room upstairs. The idea was to convert the attic in order to give us a third proper bedroom.
Like most Victorian houses, that were designed and built in this particular style, we have a steep, central staircase rising up through the middle of the property. At the top, there was originally a small landing of just a couple of feet square. You would then turn right or left and step straight into a bedroom.
Once planning started it quickly became apparent that we would have an issue when it came to deciding where to put the stairs. Originally we had wanted a proper staircase. We felt it would be the safest option, especially with children going up and down all the time, and we thought it would look better. But we soon realised this might not work out.
Meeting Building Regulations
Firstly, we were told that a proper, full-size staircase would not in fact meet building regulations, as we wouldn't be able to achieve the necessary head height as you climbed up into the loft.
Then, when we looked at plans, it also became clear that we would also have to give up an enormous chunk of one of the bedrooms - and perhaps even create a corridor for the stairs to sit in. There just wasn't enough landing at the top of the existing stairs to have the new stairs coming down on to it. This seemed crazy as the whole reason for carrying out the conversion was to give us more space.
Space Saving Options
Our builder advised us to look at space saving stairs to see if there were any styles we liked. He directed us towards a number that would meet building regulations and work with the available space - so we started considering the options.
Eventually, we settled on wooden paddle stairs, that have an almost Swedish look. These are steep and they rise alternately - left then right etc - with a hand rail on either side.
The beauty of choosing these stairs was that we did not have to give up as much space on our first floor. The builder did go a little way into one of the bedrooms to create more landing and had to move the doorway into the room further inside it. But in comparison to what we would have given up had we gone for the full-size staircase, there was no contest.
I did worry about the safety of the stairs. They looked so steep and I was concerned about my daughter coming down them in the middle of the night when she was half asleep. But to date no-one has fallen down them. I think they are almost safer than our existing stairs because you do have to think about what you are doing as you go up and down.
When the loft was converted we had a built-in wardrobe made up there, as we realised it would be difficult to carry large pieces of furniture up and down the space-saving stairs. We also had a cupboard made underneath the new staircase. This wasn't something we had been aware we could do. But it has been fantastic and has given us lots more storage.
Our stairs have been a great success. They have allowed us to expand the sleeping accommodation within our home without having to lose too much of the space we had already."
You might also like...
Hi we have the same problem with our stairs, do you have photos of the loft conversion that you could share. Thank you
Sounds like you have done exactly what we are trying to do! We also have the victorian cottage where the stairs are in the middle of the house between the reception rooms, any chance you can send photos or a floor plan so we can see how you did it? Many thanks!
RachelB
- 2-Mar-19 @ 8:52 PM
I have the same paddle stairs in my 1921 home in Hobart, Tasmania. I built them myself. Happy to send you a photo. Paul
paulie
- 11-Aug-14 @ 9:11 AM