Kitchen for a Small Basement Space: Interview With a Designer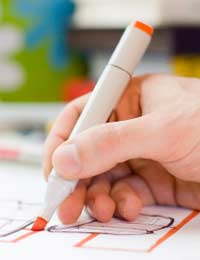 David Pratt, is a director of the Norwich-based Total Kitchen Company Ltd. His company specialises in a range of kitchens, in all sorts of designs, from modern and traditional through to eco styles. David himself is responsible for design and sales, and has installed kitchens in a variety of different homes – and different locations with the home, including basements – over the years.
Q: What sort of basement work do you carry out?
A: I have had previous experience of fitting all sorts of kitchens in basements. Homeowners are often keen on installing kitchens in the basements of three-storey houses to make use of the extra space they have on the additional level.
Q: Have you installed many kitchens in small basements?
A: Yes, I have experience of installing kitchens in all different sizes of spaces, including small townhouse basements.
Q: What are the common problems with installing a kitchen in a small basement?
A: One of the main issues is access – particularly with installing work surfaces as they often come in four metre lengths. This means there can sometimes be difficulty getting them down steep, twisting stairs. To overcome this we would normally have to cut these down in the garden before installing them and then put them back together once we are down in the basement.
Q: Are there issues with plumbing that have to be considered?
A: If there is a kitchen in the basement already, we would just connect to the existing system. So this is not normally a problem when a kitchen is simply being replaced. For a completely new kitchen, however, plumbing would have to be considered carefully and we would need to look at building regulations when it came to thinking about the drainage possibilities.
Q: What solutions have you come up with if lighting is an issue?
A: I can't emphasise enough the importance of choosing good lighting in a basement kitchen. I would always suggest using reflective materials for doors and worktops, and installing down lighters and under cabinet lighting to get the maximum light.
Q: How have you managed to fit units and appliances into the small spaces?
A: Yes. We have worked in all sorts of spaces and can usually come up with solutions that people are happy with. There are all sorts of options for small spaces when it comes to the kitchen itself and the appliances you want to have in it. It is a case of being creative.
Q: Which styles and kinds of kitchen
... work particularly well in a basement?
A: Once again, I would always say consider laminate or gloss surfaces for doors and worktops as these reflect the light so much better than solid wood.
Q: If someone is considering installing a kitchen...
in a small basement space what should they consider and where should they start?
A: Always ask for expert advice before starting. Find out if building regulations need to be adhered to or if you need planning permission for whatever you want to do. Think about your plumbing and take advice on how that would work. Then, when it comes to the kitchen itself, speak to a designer, and, as I said before, considerations of space and light are always essential in a small basement.
You might also like...