Our Bedroom & Bathroom Loft Conversion: A Case Study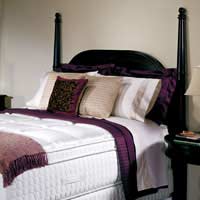 When Alice remarried and moved to another part of the country, she and her new husband had to come up with a solution to create more space. The answer was to go up into the loft.Alice said:
"My husband and I have both been married before, and we both have children from those previous relationships. By and large it works well, however. We both have amicable relationships with our former partners and the children get along OK most of the time.
"When we married I decided to move house to live with my new husband. He had a good job and it seemed the sensible option. My kids weren't over the moon about going to another city but they could see that I needed a new start and were happy to give it a try.
"My husband had a nice house, with a good-sized garden, in a leafy area of the city, close to good schools, but it didn't' really have room for us all. For a while we looked around at other properties but nothing else was quite right. Then it occurred to us to extend.
"First we looked at the option of building out into the garden. But it didn't really work with the layout of the property and neither of us were keen to lose garden space unless we really had to. So we began to consider converting the attic space.
The Conversion
"The property was at that time single storey but it did have a generous loft space with good head height. So we contacted an architect and invited him round to have a look. At the time we had just been looking to create an extra bedroom up there but after he'd had a look, we had a pleasant surprise. He pointed out that we would also have room for a bathroom.
"The project wasn't cheap. Altogether it ended up costing us more than £21,000 but it was well worth it, and to buy a similar house with an extra bedroom and bathroom would certainly have cost us more than the value of our house plus the extra £20,000.
"We obviously had to have a new staircase built too, which came down into our hall by the front door. Luckily this was a wide area, which didn't suffer too much from giving up some of its space.
"What was also great was that there was enough room up in the loft to create a good-sized landing as well. This meant the bathroom did not have to be en suite, allowing it to be easily accessible to all members of the family.
"Today the loft bedroom is where my husband and I sleep. The bedroom is a reasonable size and the skylights keep it feeling bright and airy. The bathroom has a toilet, shower and basin in it. It is also very modern and light.
"Both rooms have slightly sloping ceilings at the edges but overall there is good head height. We also still have some storage in the eaves.
"We are still a busy, often overflowing, household, but the extra bedroom has made all the difference. And with a house full of teenagers, I really don't know how we would have managed without the additional bathroom. It just goes to show that it's well worth asking an expert to spell out all the options open to you.
"You never know, they might just suggest something you haven't thought of yourself that could really improve your quality of life significantly."
*Names have been changed.
You might also like...