I Made My Loft Into an Artist's Studio: Case Study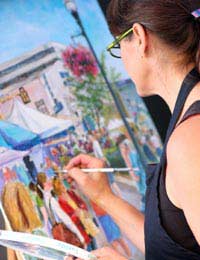 Sarah Roth gave up her full-time job as a solicitor to focus on her art. At the same time, she decided to convert the attic in her country home into a studio where she could really focus on her painting.Sarah said:
"I started painting as a child and at school was encouraged to do it at A level. I did very well in my exam and my teachers were keen to see me take it further but my parents felt I needed to establish a more reliable career first. As a result I went to university, studied law and became a solicitor. Several years later I married and had two children.
I loved my job as a lawyer but painting remained a passion for me. Much of my spare time has always been spent with a paint brush in my hand and I guess I always felt at the back of my mind that I would like to have the opportunity to focus on it full-time at some point in the future.
Where to create a studio
My painting style is fairly traditional. I enjoy depicting landscapes. At weekends I go out and about with my camera, taking pictures of the countryside and coast before returning home to realise them on canvas.
My family were always very supportive of my hobby. They helped me set up exhibitions a couple of times a year and were always very patient during holiday time when I would often slope off to paint.
Once the children went off to university, my husband and I began to discuss the possibility of my focusing on my art full-time. Financially, we agreed it could now work, the issue, however, was where I would actually paint.
Up until now I had used an area at the back of the garage for painting. My husband had put French windows in there and the northern light was perfect for me. But spending a few hours in there a week was a bit different from working in there full-time.
Considering the attic
Then my husband came up with the idea of converting the attic. We have a four-bedroom 1960s' home in the countryside and had a reasonably sized space in our loft - but had never used it for anything other than storage. We called a specialist firm in and they told us it would cost about £35,000 to do what we wanted to. Once again, there were lengthy discussions but, after agreeing the conversion would add value to the house, we decided to re mortgage, take some of the equity out of the house and go ahead.
We had a full conversion carried out, complete with a dormer window on one side and sky lights on the other. We also had the plumbing brought up to the attic so I could have heating up there, as well as small toilet and a large sink.
Ideal for a studio
Once work began, it became clear the space would be ideal. The light-filled room is simply perfect for painting. Along one side, where the sink is, I have fitted a long work surface where I have set up all my materials. The head height in the studio is great, which means I can stand comfortably at my easel.
I have painted the walls and ceiling white, to keep the space bright, and have laid a laminate on the floor to make it easier to clear up spillages. The space is warm and comfortable for spending hours in every day.
At the artist's easel
Since giving up my job I have spent most working days up in my studio, working from photographs taken at weekends. I have held three solo exhibitions and taken part in a number of others with other artists.
I am very happy working full-time as a painter and have no immediate plans to return to my job in law. Converting the attic and making it into a studio has undoubtedly enabled me to do this. It was a good move that has allowed me to do what I have always wanted to do.
You might also like...