We Made a Basement Bedroom for Students: Case Study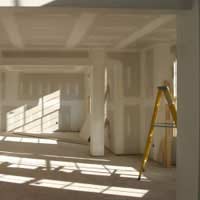 Shan and Seb Grigg have recently renovated their basement into a rental space for students. Now they just have to decide how to market it.
Shan said:
"The basement in our house has had a number of uses over the years – a junk room, work shop, children's play space and music area. Now it is ready to become home to two or three students.
We made the decision to renovate the space to make it suitable when my husband Seb and I decided we wanted to change the pace of our lives. For years we had both held down full-time jobs - Seb as a teacher, and me as a nurse - and we'd also raised three beautiful children.
Great potential
To be honest, our sprawling Victorian home was always a bit of a millstone round our necks. We loved it but we couldn't really afford it when we bought it and both had to work all the hours we could just to keep the payments up and to afford all the other things teenagers need.
Then last year our youngest child went off the university. The other two had already left home, and we began to discuss how we might change our lives. The obvious thing seemed to be to rent out some of the extra space we had in the house to make some money. This extra income would be put towards the mortgage, enabling us to reduce our working hours – and enjoy some much needed leisure time!
Student accommodation
One option was to let the children's rooms out to foreign students during university term time, but we somehow we couldn't bring ourselves to do that, so we hit upon renovating the basement.
The space had already been tanked out and was insulated but we had no central heating down there, and it wasn't a terribly pleasant area. The basement actually had three separate spaces, so we decided to make two into bedrooms and the third into a bathroom, so the students could be fairly self-contained. The two rooms that were to be bedrooms had window lights so we felt we could make them into nice spaces in which to spend time.
Renovation process
Seb and I did as much of the work as we could ourselves, largely to save money. We had to call a plumber in to fit the radiators and the bathroom suite but Seb did all the tiling and plastering, and I cleaned and painted.
We knew pretty much from the beginning that we wanted to let the space out to students rather than professional adults. This was because access to our basement is through the house and we are a rather chaotic family. We didn't want to feel as if we had to stand to attention the whole time. Besides, having had three teenagers of our own, we felt having some extra ones in the house would be no bother at all.
Because we work so hard, the renovation process has taken us several months. Our children have helped on holidays, and my father-in-law has proved to be very handy as well!
Finishing touches
The last few weeks have been spent tinkering with the electrics and furnishing the rooms. A friend of ours is an electrician and he has fitted down-lighters in both bedrooms and the bathroom. These are daylight effect, which should keep the room feeling bright and airy.
We didn't splash out greatly on carpets as spillages are inevitable but chose something that was warm underfoot and creamy coffee in colour. In the bathroom, we used cheery light blue tiles, teaming them up with a cream paint.Once all the decoration was done we made a trip to a warehouse store and bought cheap and cheerful beds, desks, chests of drawers and lights. We fitted shelves and hooks – and the rooms were then ready.
Student basement
In the last couple of weeks we have had staff from the foreign language colleges over to inspect the accommodation. They all seemed pleased with what we have achieved and felt our basement would be comfortable and suitable for their students. In a month's time our first students will arrive and in the New Year both Seb and I will scale down our working hours. Neither of us can wait – our basement has allowed us a new beginning."
You might also like...