We Converted Our Loft Into an Office: A Case Study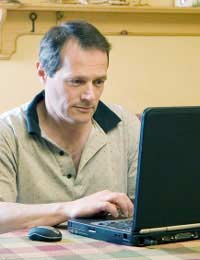 With her husband spending more time working from home, Lindsay began to think about creating an office in the loft. There were a few problems along the way, but overall the project was successful.Lindsay explained:
"We have lived in our house for 18 years but have only fairly recently transformed our loft into an office. It wasn't something we'd always thought about doing. In fact, it really only occurred to us a couple of years ago when my husband George began to work from home more.
"Our house is a turn-of-the-century terrace. It's a big house, with a sitting room, dining room, family room, breakfast room, cloakroom and kitchen. Upstairs, we have four bedrooms and a bathroom.
"With such a lot of space downstairs, we had always used our dining room as a study. It suited us well when the children were younger. We could work at the computer and be close to them while they played or did their homework.
"As they got older, however, George began to spend more time working from home. His job was fairly flexible and it meant he didn't have to spend so much time travelling. The trouble was that not only did he need more space for his books and work material but the girls were starting to want to use the computer too from time to time, which meant he couldn't always get on when he needed to.
"So we called a friendly builder in to have a look and he said there was plenty of space to make an office in the loft. Because there was a chimney breast right in the centre of the attic, the whole area couldn't be opened right up, but the builder suggested a smaller room could be created next to the office. This would be ideal for book shelves and the storage of George's work material.
"With lots of wood and brickwork up there that we could strip back as well, we could give the new space a really characterful look that would be in keeping with the age of the house.
"We were given a price of about £17,000, which we agreed to, and work began. Just a couple of weeks down the line, however, our builder hurt his back and had to call a halt to it all. We were so disappointed. It was also frustrating because we were living in the chaos of brick and plaster dust upstairs and although we were able to clear up to some extent, it was annoying to have to put everything on hold for six weeks.
"The builder then came back but literally within a few days of starting up again, realised that the floor need to be strengthened much more than he'd previously thought. At the same time, he discovered that an area of brickwork we were going to expose had been painted with some sticky substance that was almost impossible to remove.
"All in all, it was going to cost us £2,000 odd more than we had first thought - and we began to wonder whether it was really worth all the hassle. But by that time it was too late. Going back would have been almost as bad as continuing.
"We gritted our teeth and stuck with it - and in the end we were so pleased we did. The builder did a beautiful job and the exposed brick and woodwork looked fantastic. We had shelves built into the smaller space, which look just fabulous, and the main room had more than enough room for George's desk, computer and work area.
"Now he can escape up to the house and shut himself off when he needs peace and quiet. We have gained extra space downstairs where the girls can sit and work at the computer - and everyone's happy!
*Names have been changed
You might also like...