How We Use Our Basement for Parties: Case Study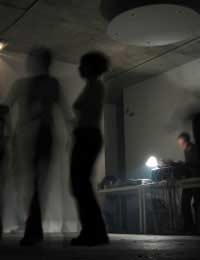 The Best family, plan to convert the basement in their four storey home at some point – but for the time being they have found it ideal for other purposes. As well as storing their tools and bicycles down there, it has also become their party room.
Kaye Best says:
"We've been in our house for about four years now and we still haven't managed to get around to converting the basement. To be honest, it was one of the main reasons we were attracted to the property in the first place but renovating the living areas and bedrooms had to take priority. We do still plan to do it at some point. Our long-term aim is to have a large relaxation area down there, complete with cinema screen and comfortable seating.In the meantime, however, the basement has been ideal for storage. One section of it is also used for tools and for the bicycles – and it has come to have another use too. It is now our party room!
Our Party Room
We are very lucky because the basement is dry and has good head-height. We first decided to use it for a party one Halloween. We have always had a Halloween party every year. It starts off as an event for the children and then as the evening progresses they are taken home or put to bed upstairs, and the grown-ups carry on celebrating downstairs. It's great fun. The house is decorated, everyone dresses up and we all dance.
Two year ago, however, Halloween happened to fall at a time when we were carrying out some building work in the living room. We were trying to work out how we could get it clear in time when my husband suggested the basement. We went down to have a look and realised just how fabulous it would be.
Perfect Space for Parties
The main space is pretty large. There's just one window down there but we tend to keep it shuttered. We have lots of lights and electrical points, however, so the possibilities for creating a great atmosphere were fantastic. We got our box of decorations down from the loft and decked out the main room with fake cobwebs, UV skeletons and other such horrors then my husband screwed low watt bulbs (some of them coloured) into the light sockets.
In one corner, there is an alcove, which goes under the bay window above. Here we set up our music system. The initial plan was to have food and drink in the kitchen upstairs but then we realised we could use the side room, where we normally store the tools and bikes. We dragged them all out and tucked them away under the stairs. In this area, we set up trestle tables for the ghoulish food and drinks and put buckets of ice with bottles of beer in them underneath.
That Halloween party was great fun. Everyone enjoyed the novelty of partying in the basement – children and adults alike! It was so good, in fact, that we repeated the whole thing again the following year.
The children use it too...
In the meantime, the basement has become a bit of a general party room. Our oldest child had her 16th birthday party down there. Again, we set up the music, lights, food and drink and it worked well. Best of all we found the noise was really well-contained because the space was below ground – so none of the neighbours complained!
Our young son had his birthday party down there. We brought out the long trestle tables and put benches down the sides – and it was ideal for a party tea. When blackcurrant juice was split and cake crumbs were trodden into the carpet, we didn't worry in the slightest. It was easy to clear up and we knew we would be transforming the space soon anyway.
We are now almost at the point where we are ready to convert the basement. Although I am looking forward to the wonderful new space I guess I will miss those carefree subterranean parties. We will still use the basement as a party space but once it has its new floor, decorations and furniture, it certainly will lose some of its exciting atmosphere."
You might also like...