We Converted Our Basement to Let to Students: A Case Study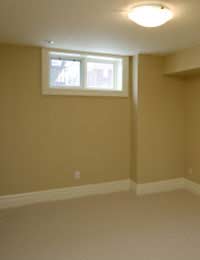 When James Riven and Ali Smith bought their new home they did so knowing they would have to convert their basement and let it out to students. This was the only way they could afford to stay in the property.
Ali said:
"With three children, two dogs and a cat, our three bedroom city centre home was starting to feel cramped and we knew we really needed to move. But property prices had shot up in the area in which we lived and we just couldn't see how we could do it. There were a few houses of the right size on the market that we could afford but they needed so much work and neither James nor I knew if we were up to it.
Our House Sold Really Quickly
After several meetings with financial advisors and endless afternoons trailing round estate agents, however, we realised that the only way to find out if we could move house was to give it a go. We put our house on the market and somewhat surprisingly had an offer for the full asking price within just a couple of weeks. We accepted the offer and as the completion date grew closer became more and more nervous. What would we do if we couldn't find a suitable home? Should we risk giving up the home we loved, even if it was cramped, and move into rented accommodation on the off-chance that the right property would come up?
Then one evening I was surfing through the property websites as usual when something caught my eye. It was a large terrace, exactly where we wanted to be and with four bedrooms - but best of all it also had a cellar. There was just one problem. It was £20,000 more than we could afford.
We Loved the House But It Was More Than We Could Afford
I called James to look at it, and we made an appointment to go round the following day. The house needed lots of work and the cellar needed to be converted – but we both loved it. We went home and did the sums, then did them again and again, and again. But it was no good, we couldn't make it work. The house was just too expensive.
Desperate to have it by now, we tried a low offer, but it was rejected. So we went back to the financial advisor. After juggling with the figures he told us we would probably get a mortgage for the full amount if we could come up with another £10,000 for the deposit. The payments would be a squeeze but it was possible.
That night I called my parents. They were happy to help but would require the money to be paid back in instalments fairly soon as they needed it to make alterations to their own home. James and I sat and chatted. What if we converted the basement immediately and then let it out to students?
We Got a Builder to Assess the Basement
The next day we made an offer for the full asking price and it was accepted. James then went round to the new house with a builder. For under £10,000 he thought he could create a large bedroom and bathroom down there. The basement was dry and would not need tanking. It had good head height and with a sash window and other ventilation points, it would be airy. It had no entrance of its own but the students would have to come into the main house anyway to use the kitchen.
So James made a phone call to his parents – and they agreed to lend us the money. With so much debt and so many family members to pay back, we had to start work as soon as we'd moved it. It was hard having the builders around for a solid three weeks so soon after coming into our new house but we all saw it as something of an adventure.
The conversion itself went well. The stairs had to be replaced, which was an unforeseen expense, as they were damaged, but there were no other hidden horrors. The basement was as dry as they'd thought it was and with all the additional lighting they installed it became bright and airy.
After great discussion we decided to let the space to foreign students from the local language school. They were younger than students from the university and were happy to share. We were therefore able to let the room to two people at the same time. There were also several schools nearby, all desperate to find accommodation for their pupils.
The First Students Moved in
The first students arrived and despite our fears of sharing our home, we all found it fine. The children loved the attention of the teenagers and it was good for them to interact with so many different people of different cultures.
The plan was to let the basement to the students for two years. That would enable us to pay off all our debts - but here we are four years later still doing it! Having the students on a different floor to rest of us means we all have our privacy. I can wander to the bathroom in my dressing gown without feeling embarrassed and they can play their music as loud as they like. We have grown used to the extra money but we keep letting the space for other reasons too. We all enjoy having the youngsters about and despite the chaos of our noisy house, they seem to enjoy coming here too.
You might also like...
Hi there! After reading about James and Ali's ideas to earn extra money from their basement, I've been thinking about doing the same thing too. My basement has plenty of room and is completely already useable to include a bedroom, living area, toilet / shower and a small kitchenette.However, I need some ideas / advice as to how to go about converting the available space. Any ideas please? Many thanks,
Lynnee
- 30-Dec-12 @ 12:34 AM