I Put in a Basement Bathroom With a Macerator Loo: A Case Study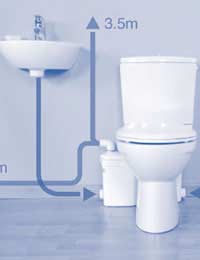 Sue Highfield moved into a house with a basement and came up with the idea of converting it to create extra space. But she found herself faced with the question of how to install a toilet. In the end a macerator seemed to offer a solution.
Sue told us:"I bought my four storey Edwardian house five years ago. At the time, one of the storeys was just a cellar. It had never been used for anything other than storage. The kitchen, dining room and drawing room were on the next floor and then I had bedrooms and bathrooms above. On the top floor I had an attic bedroom.
I Wanted to Let Out Some Rooms
At the time, I was living alone and working as a university lecturer. Because I was approaching retirement, I decided to move into a house that had enough space to let out rooms. My idea was that as I scaled down my working hours I would take in lodgers to supplement my income.
For the first couple of years, I let out the attic room and one of the first floor bedrooms. But then I decided to retire fully and concentrate on working on some of my own writing at home. It was then that I began looking at the possibility of putting another bedroom and bathroom down in the basement to bring some additional money in.
I called a builder and an architect, and we all put our heads together. The main problem was that although there was a basement window light at the front of the house, there was no opening at the back and because of my kitchen extension, there was no potential to create one.
The Soil Pipe Location Was a Problem
This meant the bedroom would have to be at the front of the space, as that was where all the natural light was, and the bathroom would have to go at the back and have artificial lighting. But what would we do about drainage and where would we put the soil pipe from the toilet? I could have opted to have no bathroom at all. But would I have been able to rent the room out given that the tenant would have to climb two storeys to use the existing bathroom? I thought not.
Eventually the builder and the architect came up with a solution that involved complicated pipework but it was going to boost the overall conversion costs by about £3,000. It wasn't the dirty water drainage that was the main problem, they decided, but the soil pipe from the toilet. This could, however, be overcome if we put in a macerator toilet.
The Macerator Toilet
Initially, I recoiled in horror. Some London friends of mine had installed a macerator loo in their understairs cupboard and had experienced no end of problems. The pipes were always blocking up and I will never forget the sight of a plumber walking through their kitchen carrying bucket loads of waste that he'd had to empty out in order to free the blockage.
With the alternative so expensive however, I decided to look into it anyway to see if I could be convinced! A macerator toilet is ideal for a tricky space because its pipes are much narrower. Hidden behind the toilet itself is a unit that has blades that rotate to effectively chew up the waste and turn it into a liquid. Macerators are obviously noisier than normal toilets and as well as the risk of blockage, there's also the danger of the unit itself packing up. But it did seem to me that these toilets had improved in the years since my friends had installed theirs.
So I decided to go for it. I have to admit that I didn't do it whole-heartedly, it was the significantly lower cost that swayed me. But it did seem to be the best option.
The Macerator Loo Has Worked Well
A few weeks later, the back end of my basement was transformed into a shower room, which also included the new toilet, and the front became a bedroom. It all looked lovely but I was anxious when I first let the room out. I made a big sign telling people not to put anything they shouldn't down the toilet pan, and I checked it frequently.
But that was nearly three years ago now and so far (touch wood!) I have not had any problems. I still hear the odd horror story when I tell people that I've got a macerator but my own experience is that they can work very well. In a tricky space, such as my basement, it proved to be the perfect solution and without a bathroom, I believe I would have had real problems letting out that room.
You might also like...