I Made a Music Studio in My Basement: A Case Study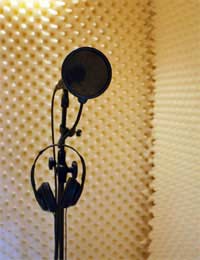 Kevin Brown's music is his passion but it wasn't easy to find a space in his house where it wouldn't impinge on everyone else's lifestyle. Then he thought about using the basement.Kevin said:
"I've been a DJ for about 10 years now, playing hip-hop, reggae, dub and drum and bass. It's not my main job. By day I work in a school - but by night you'll often find me messing about in my studio or - at weekends - playing in clubs.
To begin with, I started fiddling about with friends' equipment. Playing my vinyl records on their decks and making music through PCs they had connected up to their systems. Then I saved up some cash and bought my own gear.
Where to Put Music Equipment
My wife didn't mind me doing this too much. She has her own hobbies and she knew how much I loved music. The problem really was where to put all the equipment. The decks themselves have two turntables and are therefore quite large. Then there were the speakers, amps and mixer, as well as recording equipment and record storage etc.
To start with I set it all up in one corner of the dining room. To be fair, she was pretty tolerant about the fact that we had lost some of our communal space. But it all became a bit of an issue when I started to play on it.
You see, making music isn't just about playing a nice tune or two in the background, it's about experimenting with sound - and being able to blast it out sometimes. I would often come back from work feeling really stressed out, wanting nothing more than to lose myself in my music. She would get back from work, also feeling exhausted, wanting to sit quietly with a book or to watch a little TV - and of course she couldn't do this with my sounds vibrating round the house.
Finding the Right Space
We looked at moving all the equipment into one of the bedrooms, but at that time we were also planning on having a baby and so we knew that it might be a case of moving it all out again in the future. Also, sound-proofing a bedroom would be a big job.
Our house did have a small basement but we had never really used it for much except storage. The idea of turning it into a studio began to take shape in my mind. But I was very anxious about how damp it might be down there. My equipment was pretty expensive and lots of my records were rare finds that I did not want to see damaged.
I called a damp expert in and he tested the space. Surprisingly, it was fine, but he did suggest adding more ventilation, so we had a couple of fans embedded into the wall, and also added a couple of vents.
How to Sound Proof the Studio
Then I set about sound-proofing the space. Someone gave me some insulation panels that were basically two sheets of aluminium with polystyrene between them. These were ideal. I lined the walls and ceilings with them. I then did the old trick with the egg boxes, covering the room completely.
I moved all my gear into the basement, setting everything up where I needed it to be.The space wasn't huge but at least it was mine.
Now I can disappear down the stairs whenever I want to practice or record. I can shut the door and blast the music out as loudly as I like. Not only is my wife happy but I guess the neighbours probably are too.
Converting the basement into a music studio has been a solution that has worked well for everyone!"
You might also like...