A Basement Into a Treatment Centre? Interview With Shiatsu Practitioner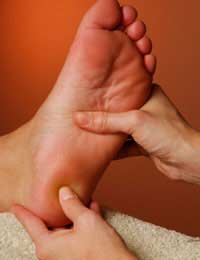 Qualified and experienced Shiatsu practitioner Tom Potter has just opened walk-in chair massage centre The Rub in Norwich, Norfolk. Now he is turning his basement into a treatment centre and hopes to be able to offer reflexology and aromatherapy, as well as full Shiatsu massages before too long.
Q: Where did you get the idea for a walk-in massage centre?
A: I ran a similar business in London and then set up branches of it across the UK, in high end department stores and airports. I also ran one in Corfu in Greece. The idea is that people drop in without an appointment for a back rub, which helps release tension and stress. We have qualified Shiatsu practitioners offering these sessions. People sit in special chairs, lead forward and the practitioner works on the top triangle of the body – the neck, shoulders and upper back.
Q: Why did you choose this particular building to operate from?
A: On Upper St Giles in Norwich, it was in the perfect location for attracting passers-by, particularly from the "Golden Triangle" area of the city. But the building itself was perfect too. It was a beautiful old shop with lots of character that people knew well. It has a wonderful curved glass window on the corner and I wanted people to be able to look in and see the customers having back rubs.
Q: Did the building offer potential for expansion too?
A: Yes, it had great potential. As well as a room on the floor above that I thought I could turn into a waiting room, it also had this beautiful basement. Lovely wooden stairs lead down from the main part of the shop into the basement. The basement has these beautiful panelled walls. I could see immediately how it could be used.
Q: How do you plan to use the basement?
A: I thought it would make a wonderful underground treatment room – somewhere people could come for long sessions after making an appointment. There's enough space down there for the treatments to take place and people waiting for appointments can use the waiting room upstairs. The basement is very quiet and it feels far away from everything else. My plan is to offer Shiatsu, aromatherapy and reflexology as they tie in very well with what I offer in the main shop and I believe them to be very effective treatments with good therapeutic results.
Q: Is the basement ready to use now?
A: I am currently working on it and hope to have it open before too long. I have put up a partition wall that is sound proof to make it even quieter down there and am making it into a very cosy space. There is a beautiful oak floor down there but I plan to lay a carpet so that it's nice for people walking about with their shoes off. I will probably bring some gentle colour in on the walls to add to the atmosphere and I need to install a dimmer switch so we can adjust the lighting. The original panelling is also still visible.
Q: What overall style are you striving for with the basement treatment space?
A: I want it to have a very calm feel so that people go down into it from the shop and immediately feel comfortable and relaxed, ready for the treatment they are about to receive.
You might also like...