Underground Crypt is Great Venue: Interview With Bar Manager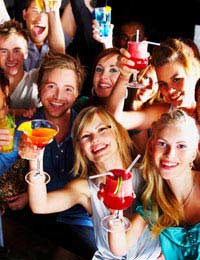 On a cobbled street, in the heart of old Norwich is a bar and restaurant called Bedfords. This beautiful old building has an ancient underground crypt that is now used as a venue for all sorts of events. Manager Jamie Jamieson, who has worked at Bedfords for 19 years, explains why it is so popular.
Q: Can you tell us about the Bedfords and its situation?
A: Yes. We are in an old building in Post Office Yard, in Norwich. This is in an old part of the town that is known as The Lanes. The upstairs part of our building dates back to the 17th century but The Crypt, below it, is thought to be much older than that, possibly going back even further than the 14th century. The main building has had all sorts of uses over the years. At one stage it was a Post Office.
Q: Has The Crypt always been used alongside the main building?
A: In recent times, it has been. At one stage it was used as a creche for the children of those working in the main building. Because this is such an old part of Norwich, it is thought there might be lots of these underground crypts, and that they possibly all link up together.
Q: Why were these crypts built?
A: It is hard to know now what they might have originally been used for – underground storage perhaps. Norwich was very badly bombed during the war and many of them were filled with rubble. It is only when excavations have taken place that some of these crypts have been revealed again. This one was one of the lucky ones – it didn't get filled in.
Q: So how is it used today?
A: We have our restaurant and main bar area above, so The Crypt tends to be used for private parties and events. DJs sometimes hire it out and there's the occasional salsa night down there. People sometimes have their weddings in the main part of Bedfords and then go downstairs to The Crypt for the after-party. It's ideal for an evening event – although we have had Christenings down there too.
Q: Is The Crypt a listed building?
A: The rest of the building is listed but The Crypt has an even higher level of protection. It is classed as an Ancient Monument.
Q: Does that mean it still retains its original features?
A: Yes, it's a beautiful space with lots of exposed original features. Every time I show people round they say "wow." It has all the old stonework and a vaulted ceiling.
Q: What makes it a good venue?
A: Mainly, I would say that it's that people just love the atmosphere down there. But it is also perfect for musical events. Because it is below ground, the sound does not disturb people as much as it would if it was at ground level. Those hiring the area for the evening can also be very self-contained. They are going downstairs into their own private area, where they have their own bar.
Q: Do you have permanent DJ equipment down there?
A: No. People bring their own equipment and set up as they want to. It makes it much more flexible.
Q: Do you enjoy working in The Crypt?
A: Yes. It's wonderful having access to such a beautiful and atmospheric part of a building and it is great that it is still being used today, so many years after it was first created.
You might also like...