Electrics in Your Basement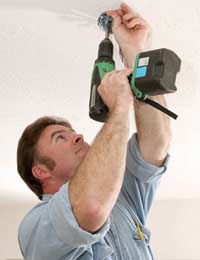 Getting Basement Electrics Right
Unless you already have working appliances in your basement you will not have any electric supply so will need to install basement electrics. You should be able to extend your current wiring from the rest of the house down into the basement, if not new wires can be created and attached the main electricity supply.
Whether your basement is being converted into a kitchen, a living room or a bedroom, you will need some form of electricity installation in your basement renovation, even if it is just a few sockets in your wall. It is a good idea to separate the individual appliance in your fuse box, this way if one of them stops working then you will not lose the power in all of your appliances.
For safety reasons it is also a good idea to separate your different basement appliances in your fuse box so you can knock them off quickly should anything go wrong.
Electricity Installation
Electricity cannot be seen and most people want their electricity wires to be the same. Your electrician will need to make sure that all basement electrics are kept out of the way and out of site of any potential hazards in the basement. The best place for your basement electrics will be the basement walls. If you are having a new structure built within the basement then it should be easy to install new basement electrics into the walls, it will also help if the walls are waterproofed which will provide extra safety.
Risks Involved
You must follow building regulations when it comes to electricity installation in your basement renovation, you will need to get an installation certificate from a qualified electrician to prove your basement electrics have been carried out and to an appropriate standard. Do not accept anything less than a qualified electrician, you will be putting yourself in danger if you cut corners and don't get a qualified electrician you could even be putting your life in danger.
Wiring up the electrics in a basement is not particular tricky for an electrician, but they will have the extra problem of damp. Damp in basements can cause huge problems and can be a huge risk where electricity is involved.
An electrician will need to make sure that any wires that are fitted into the basement are well covered and protected against potential flooding. Your electrician will need to make sure that the wires are well out of the way of any potential flood areas, and if they are then they will need to be protected.
Installing an electricity supply in your basement does not need to be hard work , but you will need to consult a professional and qualified electrician to carry out the work, do not try it yourself, even if you think you know what you are doing. You should not take any risks when it comes to using a qualified electrician, a good electrical supply will be vital to your basement renovation, or you could find yourself sitting in the dark.
You might also like...